Arizona Man Who Kept 3-year-old Girl Duct Taped in Feces-Filled Bag and Locked in Closet Gets Prison Sentence
An Arizona man who admitted to kidnapping a 3-year-old girl who was found duct taped and covered in feces inside his closet in 2016 has been jailed.
Francisco Rios-Covarrubias has been handed a 35 year sentence after he pleaded guilty to two counts of kidnapping and three counts of attempt to commit child abuse.
Judge Warren Granville of the Maricopa County Superior Court also handed Rios-Covarrubias lifetime probation should he ever be freed from prison, reported Arizona Central.
Rios-Covarrubias was arrested after police found the girl in the closet of his Mesa home in January 2016. The girl was covered in feces, had her legs and arms bound, her mouth covered, and was placed in a black plastic with just her head exposed.
Officers believe the 3-year-old had been offered for sex. She was also found malnourished and covered in cuts, bruises and blisters suffering a "level of neglect so harsh she could not stand on her own," Mesa Police Chief John Meza said at the time, reports CBS5.
"When officers went in, all they saw was the top of the child's head in the trash bag," Meza said. "The child had duct tape over her mouth, around her arms, her hands, and legs."
Police said the girl was placed into the hands of Rios-Covarrubias by her mother to look after. She was reportedly homeless and would not see her child for days at a time after dropping her off with the defendant.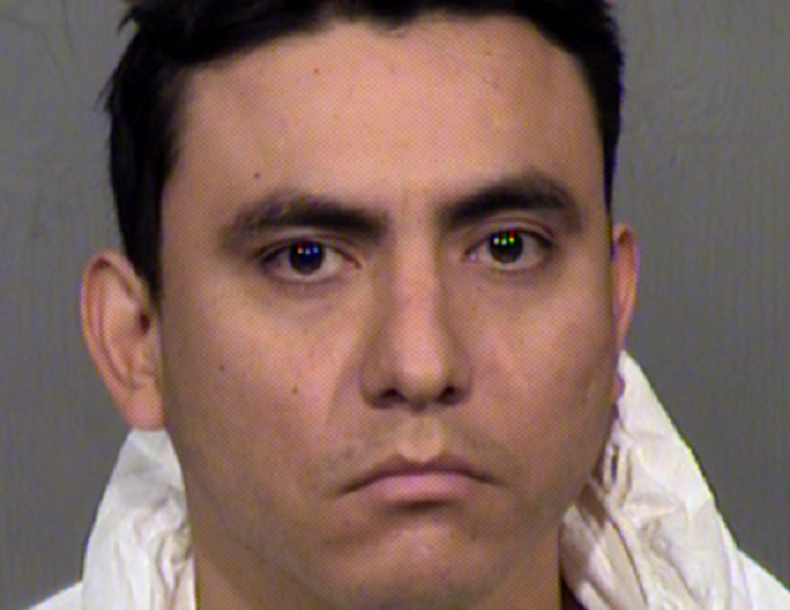 "The mother said she would see the child one day a week and she knew her child was left alone for several hours while the suspect worked," Meza said, reports CBS5.
The mother has pleaded not guilty to separate child abuse charges.
Police were alerted by a man who arranged to meet Rios-Covarrubias for sex after talking to him online went around to the home and noticed a foul smell.
The man allegedly discovered the child prompting Rios-Coverrubias to reportedly ask him if he wanted to have sex with the girl. The man then left the house but eventually came back later to have consensual sex with Rios-Coverrubias assuming the child was no longer there, reports ABC 15 Arizona.
Neighbors described their disgust in the wake of Rios-Covarrubias's arrest.
"It makes me sick. It's a child, it's a baby. And you think 'Didn't the baby scream?'" one neighbor told CBS5.
"That's some of the sickest stuff that I ever heard in my life," another added. "That's sad that would actually go down. That's just horrifying. Nothing like that should ever happen to anybody."