Arizona Mayor Doesn't Think Biden Admin Will Be Able to Get Town Resources in Time for Migrant Surge
With the surge of migrants at the southern U.S. border, many of the Border Patrol agents from Douglas, Arizona, have been relocated to areas that have been overwhelmed by an influx of people. But now Mayor Donald Huish is worried resources won't return in time when the migrants reach his town.
"They've had to reassign some of our federal Border Patrol to other areas to help their influx, which leaves, of course, my area vulnerable," Huish told Newsweek.
"I try to be as positive as I can and that's my nature. But I am worried that [the migrants] may see this as a weak spot now," he added. "I think what's going to end up happening is that these fires will pop up everywhere. These surges will pop up, and then [the administration] will maximize the resources in that area and then they'll go to another area."
When asked if he thought whether the Biden administration would be able to provide Douglas with the necessary resources should the number of migrants reach emergency-level figures, Huish said, "I'm not very confident that that would happen right now."
He said while President Joe Biden has offered the town the help of the Federal Emergency Management Agency, "It's still a lot of red tape, a lot of bureaucracy—what we're trying to cut through and tell him that if it's an emergency, why isn't the money just readily available to us?"
The small community of Douglas is populated by about 20,000 people and is sister towns with Agua Prieta, Mexico, which holds approximately 150,000. While their border community has a few shelters in place, Douglas has no facilities of its own.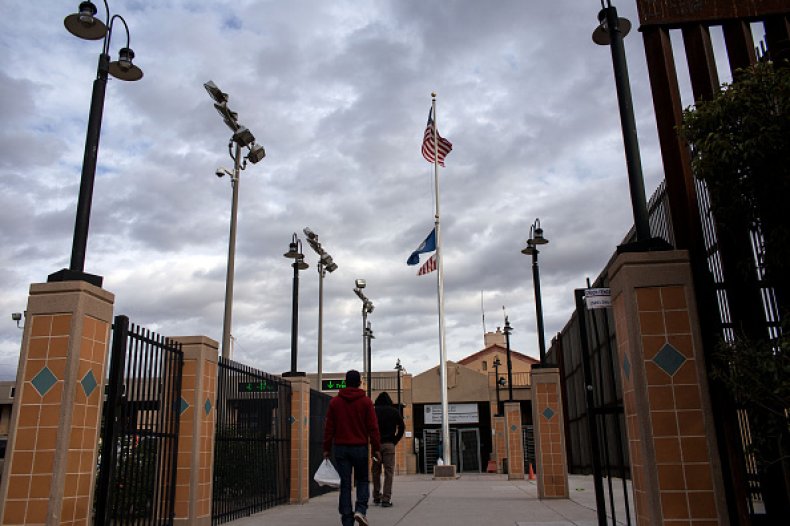 Despite being a port of entry, Douglas, like some other towns in Arizona, has not seen a change in foot traffic. Its numbers has remained relatively steady at roughly 100 apprehensions a day, even though other border towns across the nation have begun declaring states of emergency due to the influx of people crossing the border.
Although it remains unclear as to why migrants have, so far, steered clear of crossing through Arizona, Huish said the local consulate office has told him that protocols are out to migrants on the Mexican side of the border as to where they should enter.
"Douglas and Nogales are not on those protocols," the mayor said. "They're over towards the Yuma area, and of course in El Paso and all along the Texas border. I don't know exactly how they put that word out there."
Huish claimed that the drug cartels largely control who and what is allowed to cross the border. So, he added, because the cartels are more interested in smuggling drugs through Douglas, as opposed to humans, they would only allow migrants to cross through the town if they wanted a diversion.
Current numbers in Douglas may remain unchanged, but Huish says the town is "holding our breath" on when the migrants will begin start targeting it, especially now that the town is short-staffed on federal agents.
"That's what I'm afraid of: we are being depleted. We'll have the uptick eventually," Huish said.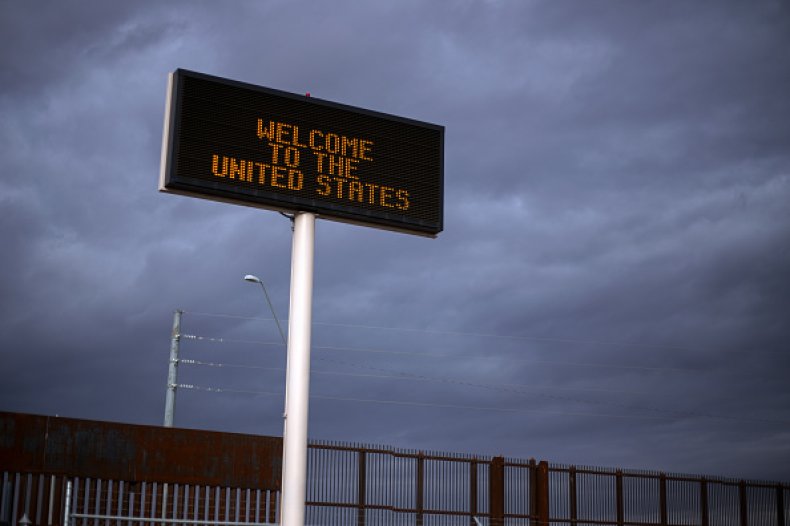 The mayor has also reached out to a few local ranchers who are farther away from the community and who have seen an increase in migrants. The stories he's heard about the persistence of the migrants concerns him that local officials will be unable to detain them once they arrive in Douglas.
"[The migrants] are pretty belligerent about it too. They said, 'President Biden says we can come in. Leave us alone. Don't bother us. He said we can come,'" he explained.
As he awaits for their arrival, the mayor has already begin to notice migrants slowly hover around the town.
"They're getting closer to town," Huish said. "There's some openings in the fence, wall, whatever you want to call it, that are closer to town. I still don't see them in my town, but I see them on the fringes. With the limited staff that they have, Border Patrol's told me that they pulled them out of the mountains to get them closer to the community to help protect us."
"If this is going to be the Biden policy to allow asylum seekers to be able to come, then they need to be prepared to handle that," he added. "And hopefully, have them come through the front door and not try to sneak across through the back door, which causes potential security problems."
Huish said he understands that elections have their consequences but he wishes that the Biden administration had put a plan in place months before new immigration policies began. The mayor said Douglas has had to rely on the help of Arizona's elected officials and local border patrol to assist his growing concerns.
"I didn't hear from the Biden administration or anybody from the federal level, except for our local patrol agent in charge, Dion Ethell," he said. "He's the one that initiated bringing this out and saying, 'Hey, what can we do?' Their station sits out on the highway, three miles west of town. 'We don't want to drop them off out there. The traffic and everything—it's not wise. So, what can we do?'"
"Douglas is not the end game," he added. "The end game is New York City or Chicago or Salt Lake City or Denver, those places. We understand that. But we do want to be humanitarian and try to help them."
While the town anticipates an influx of migrants, Douglas has set up organizations, like Douglas Welcome, with local religious groups and worked closely with the Mexican consulate to prepare for an increase in foot traffic.
Huish hopes that in response to the new policies, the federal government will begin to establish a centralized facility along border communities and set up temporary offices to hear the immigration cases. He said that if the Biden administration is serious about helping migrants, federal agencies need to process their cases in a timely manner and clearly communicate to them whether or not they qualify to stay in the U.S.