Arizona Governor Doug Ducey Says Professional Sports Will Return Imminently—But Behind Closed Doors
The governor of Arizona opened the door for the MLB, NBA, NFL, and NHL to return from May 16, but warned that fans will not be allowed to attend sporting events anytime soon because of the coronavirus pandemic.
Speaking at a press conference on Tuesday, Gov. Doug Ducey said he had held talks with leaders of some of the leagues and that professional sports would be allowed to return as Arizona continued to cautiously take steps to reopen.
Ducey's message means the state's four major professional franchises—the Arizona Cardinals, Phoenix Suns, Arizona Diamondbacks, and the Arizona Coyotes—have the green light to return to training.
"We could do that [allowing professional teams to return to training] safely in the state of Arizona beginning May 16," Ducey said.
The NBA and NHL seasons have both been suspended since mid-March, while the MLB postponed its Opening Day indefinitely. The NFL last week released its 256-game regular season schedule and remains confident the 2020 campaign will still begin September 10.
Ducey, however, said all sporting events must be held behind closed doors, in line with the protocol issued by the U.S. Centers for Disease Control and Prevention (CDC).
"It would be, at this point in time, according to the CDC guidelines, without fans," he said.
While the NFL plans to play games across its 31 venues as usual, the NBA and the MLB are reportedly considering resuming their seasons by using specific hubs across the nation to keep players isolated and limit travel as much as possible.
NBA commissioner Adam Silver has singled out Las Vegas and Walt Disney World in Orlando, Florida, as two locations the league may use if and when it resumes.
Similarly, ESPN reported earlier this month Arizona could host all 30 franchises playing games at Chase Field, the home of Arizona Diamondbacks, in Phoenix, and at other ballparks in the Phoenix area.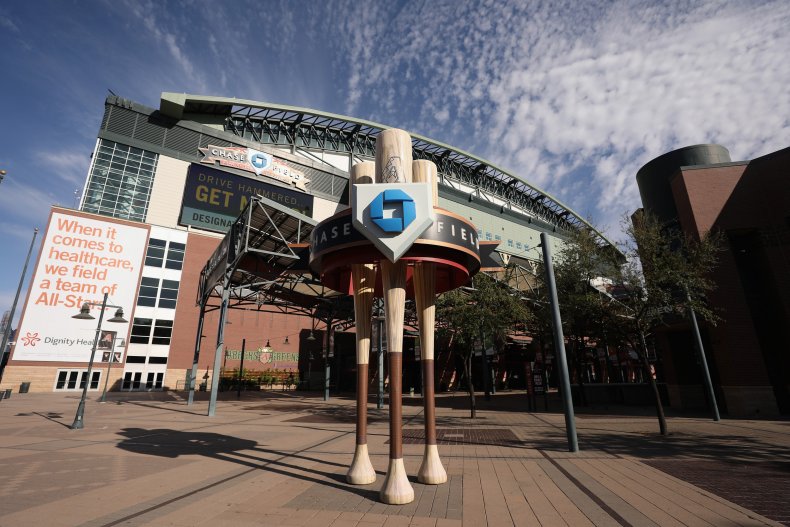 The idea, however, appears to have been shelved. On Saturday, Ken Rosenthal of The Athletic reported that the league intended to open as many ballparks as possible, but teams would be limited to face opponents only from their own division and the same geographic division in the opposite league.
Michigan Gov. Gretchen Whitmer echoed Ducey's stance, suggesting the prospect of packed stadiums in the fall was all but impossible.
"There is reason to feel some confidence here," she said in an interview on the Mojo in the Morning Show on WQKI-FM on Tuesday. "But we also have to measure expectations and say life's going to be different. We're not going to be filling stadiums in the fall."
Whitmer's comments suggested the Detroit Lions will play behind closed doors, with a similar fate reserved for Michigan State and Michigan college teams.
The Lions play at the 65,000-capacity Ford Field, while Spartans Stadium in East Lansing holds just over 75,000 spectators. Michigan Stadium, the Wolverines' stadium in Ann Arbor, is the largest stadium in the U.S. with a capacity of 107,000.
While Whitmer did not directly address the MLB, NBA, and NHL, she stressed limiting mass gatherings remained crucial to combat the spread of the new coronavirus.
"Certainly as governor, I want to give people the confidence that our plan will be met on days certain," she said.
"But the fact of the matter is, COVID-19 is...like nothing we've ever seen before. We're learning a tremendous amount. Every week that goes by, we've learned so much more about this disease and what it's going to take to keep us safe and to avoid that second wave."
Collegiate sports are also unlikely to be played in front of fans in California. On Tuesday the California State University (CSU) system confirmed its 23 campuses will continue to adopt a virtual learning model through the fall.
The system includes San Diego State, Fresno State, and San Jose State, all members of the Mountain West Conference.
UCLA and the University of California are part of a separate system. While it is yet to follow into CSU's footsteps, a spokesperson for the University of California told CBS Los Angeles that it was "likely none of our campuses will fully reopen in the fall."
Last week, NCAA president Mark Emmert said collegiate sports will not resume in institutions that remain closed to students.
"If a school doesn't reopen, then they're not going to be playing sports," he said during an interview on the NCAA's Twitter account on Friday. "It's really that simple."
As the chart below provided by Statista shows, almost 1.37 million cases of coronavirus have been reported in the U.S. as of Wednesday morning, by far the highest tally of any country in the world.
Over 82,300 deaths have been recorded in the U.S. and over 230,000 people have recovered, according to Johns Hopkins University, which has been tracking the outbreak using combined data sources.
More than 291,900 people have died globally since the outbreak of coronavirus was first identified in Wuhan, a city located in China's central Hubei province, late last year. There have been over 4.26 million confirmed cases globally.