Arizona, Mississippi and Texas Report Highest Daily Coronavirus Deaths as Trump Touts Lower Death Rate
Three states reported their highest daily coronavirus death count on Tuesday, while President Donald Trump suggested that the death rate from the virus was decreasing.
Arizona, Mississippi and Texas reported the most deaths since the start of the pandemic, according to a New York Times database. On Tuesday, 117 new deaths were reported by the Arizona Department of Health, 60 from the Texas Department of Health, and 44 from the Mississippi Department of Health.
Since the start of the pandemic, there have been 1,927 coronavirus-related deaths in Arizona, 2,715 in Texas and 1,158 in Mississippi.
Despite the increase in virus deaths in these states, Trump recently took to Twitter to offer his view of the death rate throughout the country. "Death Rate from Coronavirus is down tenfold!" he tweeted Tuesday.
In addition to touting a decreasing death rate, Trump recently suggested that nearly all cases of the virus are "totally harmless."
"Now we have tested almost 40 million people. By so doing, we show cases, 99 percent of which are totally harmless," Trump said during a Fourth of July event in Washington, D.C. "Results that no other country can show, because no other country has the testing that we have, not in terms of the numbers or in terms of quality."
Following Trump's comments on the death rate, Dr. Anthony Fauci, director of the National Institute of Allergy and Infectious Diseases, warned Americans not to take comfort in the numbers.
"It's a false narrative to take comfort in a lower rate of death," Fauci said during a live stream press conference on Tuesday with Alabama Democratic Senator Doug Jones. "There's so many other things that are very dangerous and bad about this virus. Don't get yourself into false complacency."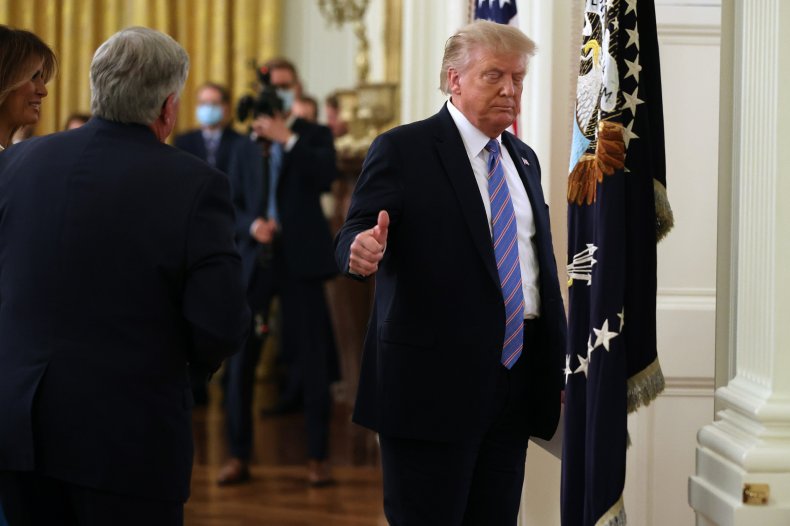 In addition to a number of states seeing their highest daily death count on Tuesday, six others saw their largest daily increase in cases. According to the New York Times database, California, Hawaii, Missouri, Montana, Oklahoma and Texas all saw record highs in newly reported cases on Tuesday.
The new coronavirus, which causes the respiratory disease COVID-19, continues its surge across many states throughout the U.S. According to a tracker from Johns Hopkins University, there are currently over 2.9 million confirmed cases in the U.S. and at least 131,480 deaths.
Newsweek reached out to the White House for comment but did not receive a response in time for publication.