A newspaper in Republican Senator Martha McSally's home state of Arizona slammed the lawmaker in a stinging editorial published this week as the impeachment trial of President Donald Trump gets underway.
McSally is one of several GOP senators who are seen as vulnerable in the 2020 election, as they are facing strong Democratic challengers. The editorial from the Eastern Arizona Courier was titled: "Profiles in Cowardice." In the column, the newspaper's editorial board strongly criticized McSally for calling a CNN journalist a "liberal hack" after he asked a "fair" question.
Last Thursday, CNN's senior congressional correspondent Manu Raju asked the Arizona senator: "should the Senate consider new evidence as part of the impeachment trial?"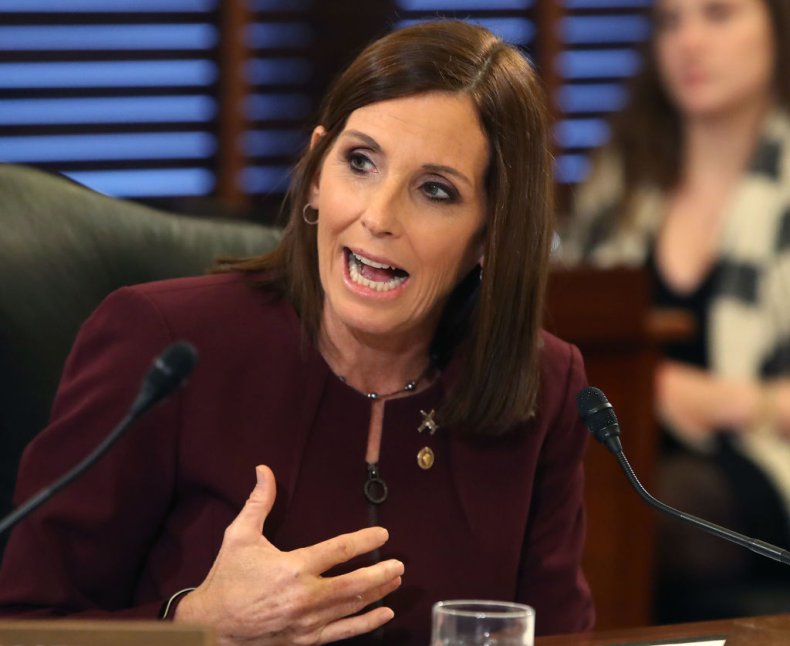 The Republican lawmaker responded: "Manu, you're a liberal hack. I'm not talking to you."
After noting that the Courier had endorsed McSally's appointment in 2018, the editorial compared the senator's behavior to "name-calling like a third-grader on the playground."
"McSally herself released a video one of her staffers recorded of the exchange — a recording that started well before Raju asked his question, which makes us think that McSally's response was preplanned, no matter what Raju was going to ask," the newspaper wrote.
"And given that the McSally video was immediately used for fund-raising and to solicit support from the president — it did — we tend to think that was all a campaign ploy. After all, McSally is behind Democrat Mark Kelly in the polls and is lagging behind him in fund-raising, so she needs to do something," the article continued.
The Courier editorial noted that McSally was in a difficult position to succeed in the upcoming election. It argued that no matter how she handled her role in the president's impeachment trial, she would anger many voters in Arizona.
"We thought she was a principled person who would take a position one way or the other and stand up for what she believes is right. Not everyone would agree with whichever side she fell on, but we would respect her holding to her beliefs," the article noted.
"We didn't expect her to be revealed as a political opportunist, willing to debase herself and dismiss her constituency in the dying hopes of holding on to a seat she couldn't win on her own."
Newsweek has reached out to press representatives for McSally to respond to the criticism, but they had not replied by the time of publication.
The senator doubled-down on and defended her remarks to Raju in an interview with Fox News last week. Sharing a clip to Twitter, McSally wrote: "The most fascinating thing about the liberal media is that they think they're neutral. Maybe they check their journalistic objectivity at the door."
As the Courier pointed out, McSally is trailing her Democratic opponent in the polls. Kelly, a former astronaut, is up by 4 points, 46 percent to McSally's 42 percent, according to a January survey by Public Policy Polling.