Arizona Now Only State Where COVID Is Declining, but Enormous Testing Backlog Could Soon Change That
Arizona is seemingly the only state in which coronavirus cases are on the decline, according to data from The New York Times that analyzes states by their 14-day trends.
But that may soon change. Many Arizonans are frustrated that the case count in their home state may not be reflective of the pandemic's severity there.
The state is facing a backlog of COVID-19 tests that may soon take Arizona off its downward trajectory. Sonora Quest Laboratories, one of the state's largest labs, reported there are currently 57,609 pending tests as of Friday, July 24.
While the lab said most non-hospital testing is being reported within nine days, some have reported that it took more than two weeks to get their results back.
Stephanie Parra told ABC News on Wednesday, she has been waiting 11 days and counting for the test she took on July 11. Parra had previously tested positive at the end of June.
As Parra's wait approaches the two-week mark, delayed COVID-19 results makes it near impossible for infected patients to effectively quarantine the recommended 14 days.
In a statement on Tuesday, Sonora Quest said its goal is to process up to 60,000 tests a day by the end of August. Sonora Quest hopes this will allow patients to receive results within 24 to 48 hours.
According to the Centers for Disease Control and Prevention, tests must be stored at a temperature of –70 degrees C or lower if kept longer than 72 hours after collected. Failure to keep the samples at the correct temperature could lead to inaccurate test results.
Due to the backlog of tests, it is uncertain if Sonora Quest has extra space available in its labs to ensure the proper storage of specimens.
Newsweek reached out to Sonora Quest for comment but did not hear back before publication.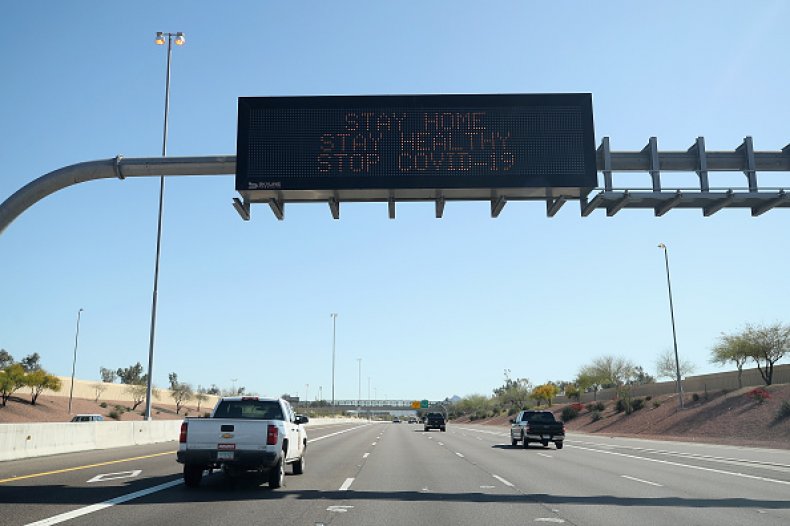 On July 9, Governor Doug Ducey and Sonora Quest announced millions were being invested into new equipment as a measure to increase the lab's testing capacity, which would in turn shorten result turnaround.
Ducey and state Department of Health Services Director Dr. Cara Christ acknowledged the frustrations over backlogged tests again at a briefing on Thursday.
"From a public health standpoint, this is a frustrating point, because we have a limited time in which we can react to the case investigation and stop further transmission," Christ said.
Newsweek reached out to Ducey for comment but did not hear back before publication.
Arizona became a national hot spot last month as confirmed cases of coronavirus soared. The state has since seen a dramatic decrease in cases, which could be a result of Ducey's reopening rollbacks.
At the end of June, Ducey announced that bars, gyms, movie theaters and other businesses would be closed for 30 days in response to the spike in numbers.
On Friday, July 24, the state Department of Health Services reported an additional 3,349 cases—compared with the average a month ago, which was more than 5,000 new daily cases.
However, until the state's testing capacity catches up to its supply, it is unknown if many Arizonans may have the virus and just be asymptomatic.