Arizona Police Officer Slams Woman to the Ground Seconds After Traffic Stop
A Phoenix police officer slammed a young woman to the ground within seconds of initiating a traffic stop, body camera footage has revealed.
Mariah Valenzuela, 23, was stopped by Officer Michael McGillis on January 16 after he saw her vehicle driving on the wrong side of the road, Sgt. Ann Justus told Newsweek.
She then pulled into a parking lot near 7th Avenue and Indian School Road and exited her vehicle shortly before midnight.
Body camera footage obtained by The Guardian shows that seconds after Valuenzela told McGillis that she didn't have ID on her, he tackled her and slammed her on the ground.
McGillis didn't tell Valenzuela why he had stopped her before pushing her to the ground.
"Let me see your licence," McGillis is heard saying to Valenzuela as he approached her.
"I don't have it on me," she replied.
"Do you have any ID on you?" McGillis then asked her.
She is seen briefly turns to her car before asking him several times: "Why am I getting pulled over?"
McGillis doesn't respond to the question, but alerts dispatches to his location and asks Valenzuela: "Is this your car?"
"Do you have ID on you?" McGillis again asked Valenzuela.
"No," she replied. "Why am I getting pulled over?"
McGillis the grabbed her and yelled: "Put your hands behind your back! Put your hands behind your back, stop!"
Valenzuela is heard screaming as McGillis repeatedly tells her to "put your hands behind your back."
"Why are you arresting me?" Valenzuela asked.
"I'm asking for your ID, you said you don't have any ID," he replied.
"Can I get it? It's in my car," she then told him.
"You said you didn't have ID," McGillis replied.
When Valenzuela asked him what she had done, he then told her: "You were in the wrong lane, you were in the opposite lane of travel."
"No I wasn't!" Valenzuela yelled. "You're hurting me. Someone please help!"
She added: "I did nothing wrong, sir."
"Sir, I am of no harm, I can cooperate with you," she told him, seconds before he is heard speaking into his radio and saying: "I've got her detained, but she's real uncooperative."
McGillis then pushed a handcuffed Valenzuela against a car, causing head injuries and bruising, according to The Arizona Republic.
"Why did you arrest me?" Valenzuela asked him.
"Stop arguing! Stop! Stop! Why don't you act like a young lady?" McGillis the asked her.
"You're manhandling me. You slammed my head. Why am I in handcuffs?" Valenzuela replied.
She added: "Stop, you act like I'm a f**king threat, are you serious?"
"Why are you acting this way?" McGillis asked her.
"Because you're hurting me, sir," she replied.
Other footage from a sergeant's body camera showed officers repeatedly referred to the incident as a "CYA" case.
The sergeant is heard telling Lt. Erik Dobrnasky on a phone call that he was going to write a use-of-force report about the incident, according to The Republic.
"She's like super emotional, super... looney tunes," the sergeant is heard telling Dobrnasky.
Dobransky told the sergeant to complete the report and take pictures of Valenzuela's injuries "just to CYA ourselves." CYA is presumed to refer to the phrase "cover your a**."
In a statement to Newsweek, Gustus didn't explain exactly what "CYA" meant, but said the Phoenix Police Department "often documents events where prisoners become injured in a 'Use of Force Report', even when the actual force used would not warrant" one.
"A supervisor is heard saying a "CYA" comment on the body worn camera video," she said. "The supervisor was directing the officers to complete a Use of Force Report, even though one was not necessarily required."
Gustus added that the police department's Professional Standards Bureau evaluated the body camera footage and other evidence, and "determined there was no violation of policy on behalf of Officer McGillis."
"Officer McGillis has no other sustained allegations of misconduct within the last five years," she added.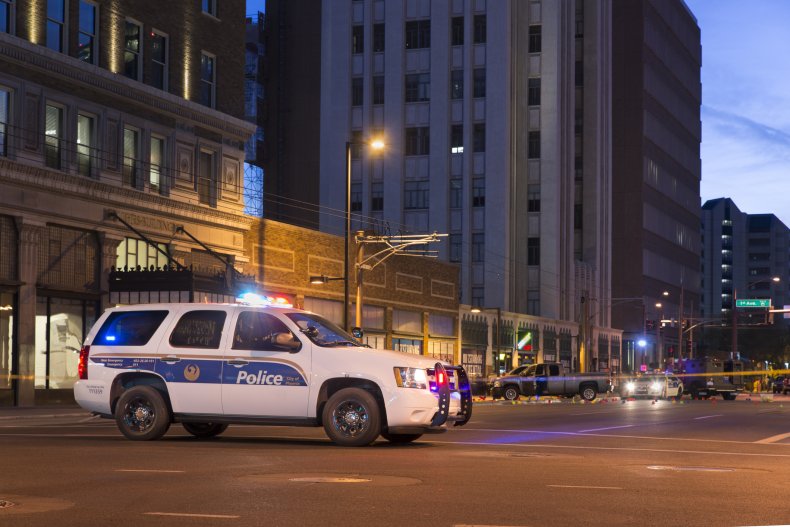 But according to The Guardian, multiple defense attorneys who have dealt with McGillis have criticized his conduct. "He's the epitome of all things wrong with part of the police department," Lawrence Koplow, a prosecutor turned defense attorney, told the newspaper.
Valenzuela was charged with eight different counts, including DUI, according to The Arizona Republic reported. All of the misdemeanor charges were dismissed on Tuesday.
However, the Maroicopa County Attorney's Office is still prosecuting her for resisting arrest, a felony charge.
This week, Valenzuela's civil attorney Brian Foster filed a notice of claim, meaning he intends to file a lawsuit, against the city of Phoenix, the Phoenix Police Department and McGillis.
Foster is asking for $2 million for Valenzuela, accusing McGillis of assault and brutality.
In the claim, Foster said the "unnecessary use of force, physical assault and police brutality occurred within 24 seconds of Officer McGillis coming into contact" with Valenzuela, who he said had been "calm and cooperative."
Noting that Valenzuela is 5ft 2in and weighs 98 pounds, while McGillis is well over 6ft tall and "quite burly," Foster said "it is hard to understand how a man of that size, who has most likely been trained with respect to appropriate use of force, would need to physically assault, injure and terrorise a 5' tall, less than 100 pound woman in this manner to 'restrain' her."
He added: "This is a case of an assault against a small, young, Hispanic single mom by a large white police officer," Foster added.
He added that his client sustained numerous serious physical and psychological injuries, including a cut to her head, and blown out blood vessels in her eyes. She has also suffered from stress, anxiety and flashbacks, he said.
Valenzuela told The Guardian about how the arrest and criminal charges against her have caused her post-traumatic stress. "There was PTSD, me feeling him still on my body, feeling afraid at night when I go out by myself," the mother-of-two said.
This article has been updated with information from Valenzuela's attorney, Brian Foster.