With Arizona in Play, Trump Courts a Normally Reliable Base: Mormons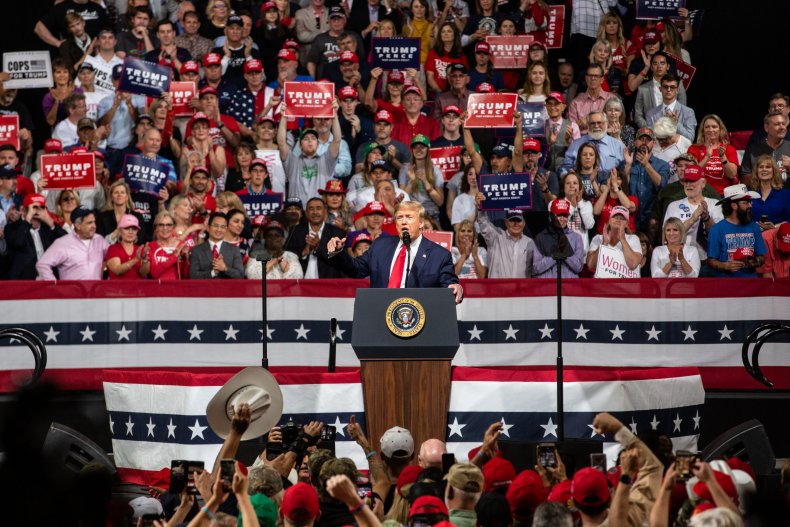 Facing a potentially knockdown battle for Arizona, President Donald Trump's campaign is seeking to shore up a normally reliable base: Mormons.
Mormons have traditionally made up one of the most reliably Republican religious bases in the country. That, coupled with the fact that members of the Church of Jesus Christ of Latter-day Saints (LDS) are a relatively small part of the voting population, means they tend to be a less-courted group during presidential election.
But as Trump's reelection prospects face an increasingly narrowed path, his team has been sending surrogates and other supporters to get the message even to the GOP's most reliable voting blocs.
The latest polls have shown Democrat Joe Biden and Trump running neck-and-neck in Arizona, a state that Trump took 48 percent of the vote to Hillary Clinton's 44.5 percent in 2016. There are more than 436,000 LDS members in Arizona. Trump won the state by just 91,234 votes four years ago.
"It's the one swing state where that vote will matter," John Pudner, a Salt Lake City–based political consultant who was an adviser to Mitt Romney's 2008 campaign and a George W. Bush 2000 aide, told Newsweek.
Vice President Mike Pence this week helped launch a new "Latter-day Saints for Trump" coalition at an event in Mesa, Arizona.
"I'm here for one reason and one reason only: Arizona and America need four more years of President Donald Trump," Pence told an enthusiastic crowd. "On issues most important to people of faith across this country—issues like life and religious liberty—Joe Biden and the radical left are deeply out of step with the American people."
Biden's campaign didn't immediately respond to Newsweek's request for comment.
It's unlikely that Trump would be forced to majorly redirect efforts this year to Utah, the state most associated with Mormon voters. But Pudner said the LDS base could play a key role in more competitive states with a sizable Mormon population, like Arizona.
"If he's dropping Mormon votes in Arizona, he's already lost the state," Pudner said.
While Arizona is seen as the major state in play, a look just north to Utah could also signal trouble for Trump among Mormon voters, experts told Newsweek.
It's currently assumed Utah will remain a solid red state but unlikely be the blowout normally enjoyed by Republicans there.
The two previous GOP presidential candidates—the late U.S. Sen. John McCain of Arizona and U.S. Sen. Mitt Romney of Utah—both took the state by 30 to 40 points above Democratic rival Barack Obama in 2008 and 2012, respectively.
Four years ago, conservative independent Evan McMullin, a Utah native who is a member of the LDS church, peeled some votes away from Trump in Utah. Ultimately, Trump took 45.5 percent of the vote, to Clinton's 27.5 percent and McMullin's 21.5 percent.
Jacob Rugh, a sociology professor at Brigham Young University, told Newsweek that a tightening in Utah could reflect more on Trump's prospects elsewhere, as well as the impact on Republicans down the road.
"If it's now a 10-point race, that's a big Trump effect," Rugh said. "It remains to be seen if that will last beyond Trump."
Trump's favorability has remained 50 percent or higher in Utah since his election, but Rugh said even those marks could signal issues for the president's reelection campaign.
"That's not that high for a group that's overwhelmingly Republican," he said.
Among Utah voters, Rugh said a reasonable expectation would be at least 10 percent higher for a Republican president's favorability.
Trump's "in-your-face" attitude can run counter to what Mormons are used to from church leaders, Pudner said.
"I think there was always a little bit of, 'We don't really like the way he does things,'" he said.
Pence, an evangelical Christian who has embraced deeply conservative and religious-driven views as Indiana governor and member of Congress, has been seen as a way to offset Trump's more brash and occasionally crude style. Pence is often sent to court religious groups, as he was with the LDS event, where he was met with cheers and multiple standing ovations. Groups of supporters lined the streets as his motorcade passed waving hand-drawn "WE (heart) YOU VICE PRESIDENT PENCE!" signs among the expected Trump flags and banners.
Pence's address ran through major conservative issues like religious freedom, abortion, law enforcement and preserving historic statues.
"America is a freedom-loving nation, and America is a nation of faith," Pence said, asking the crowd to pray for him and Trump, prompting several supporters to shout back "we will."
"We made history in 2016, and we're going to make history again in 2020. I know this because I have faith," Pence said.
Trump's aggressive embrace of a "law and order" message amid mass protests across the country and left-leaning calls for reorganizing or defunding police departments could also help him with the conservative LDS voters.
"I think Mormons are a little more law-and-order group. It's an ordered culture," Pudner said.
Frustrated by a lack of polling in Utah and overall insight how strongly Mormons continue to embrace Trump, Rugh recently surveyed nearly 400 former BYU students between the ages of 18 and 39.
The people who backed Trump's conservative rival McMullin four years ago could come down to a "coin flip" this time around, he said, because many of the votes were an act of protest against Trump's style. Younger Mormons are increasingly frustrated with Trump and more willing to break from the GOP, he found.
"Certainly, Trump's not doing as well at the moment, but he seemed to do better by November last time around," he said.