Arizona Police Officer Accused of Demanding Oral Sex to Ignore Arrest Warrant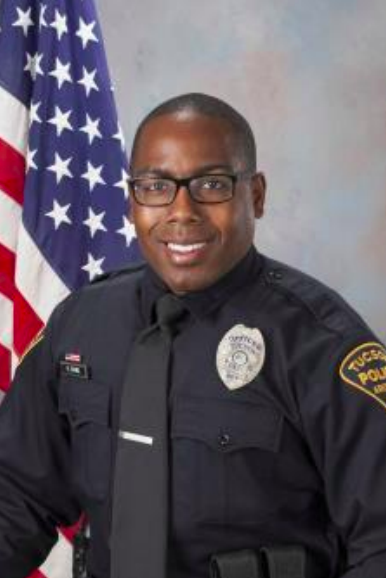 A Tucson police office was accused of demanding oral sex from a woman he was investigating in exchange for ignoring an arrest warrant.
Officer Richard Daniel, 33, was suspected of sexual misconduct with the unidentified woman earlier in January. Daniel responded to a reported confrontation between a 7-Eleven clerk and a woman on January 13 at the Tucson, Arizona, convenience store, the Arizona Republic reported.
An interim complaint filed at the Pima County Justice Court revealed Daniel first contacted the woman at her apartment complex. While questioning her, Daniel told the woman she was wanted on an outstanding warrant. He allegedly then told her that he would not take her to jail if she had oral sex or intercourse with him.
The woman told police she lied about being pregnant in an effort to avoid having sex with him, according to the Arizona Daily Star.
Daniel then allegedly offered to take the woman to a different location so the two could have sex. The woman instead invited Daniel up to her apartment and told him she would perform oral sex if her husband gave her permission, police said.
The woman's husband told investigators that his wife and Daniel entered the apartment and the officer told him about the confrontation at the 7-Eleven and how he would not take the woman to jail. The woman then told her husband that Daniel had demanded oral sex in exchange for ignoring her arrest warrant.
When the man asked Daniel if he was being serious, the officer shrugged his shoulders, court documents said. The man then left for the convenience store to learn more about the confrontation his wife had been in.
According to court documents, the scared woman offered to perform another sex act but Daniel insisted on receiving oral sex. Daniel told the woman to take care of her warrant and then left.
Her husband filed a complaint against Daniel four days later, the Arizona Daily Star reported. Investigators went to the apartment to take evidence and found Daniel's DNA, according to the complaint filed.
Daniel was arrested on Sunday and booked into the Pima County Jail on charges of unlawful sexual conduct as a peace officer and tampering with physical evidence. He has since been released from jail.
The three-year veteran of the Tucson Police Department was placed on unpaid leave and served a notice of intent to terminate his employment, Tucson Police Department said in a statement. Criminal and administrative investigations are ongoing.
"We take these allegations very seriously," Assistant Chief of Police Carla Johnson told the Arizona Daily Star. "Officer Daniel's conduct—if it's true, if these allegations are correct—it's appalling, and it's not reflective of the men and women who serve and protect this community every day."