Arizona Police Officer Suspended After His K9 Dies in Hot Car
An Arizona police officer has been suspended for 20 hours after leaving his dog in a hot car, leading to its death.
Officer Craig Curry left his K9 partner Ike inside a patrol vehicle with the engine on while he went into the police headquarters building for a meeting in June 2020.
He left his car at 3 p.m. and arrived back at 4.40 p.m. to find the engine had turned off in the 108 F heat. Maricopa police policy states K9s should be checked on at least every 30 minutes.
The dog was in a kennel in the back of the vehicle panting heavily and suffering from heatstroke. Other officers attempted to help Curry cool the dog down and transported Ike to a vet for treatment.
The dog was euthanized the following day due to complications caused by heatstroke.
A report into the incident stated Curry could have parked in a shaded area, repeatedly checked on the animal or brought the dog into the meeting.
An investigation into the incident found that Curry had a heat alarm device to alert him if the vehicle was getting too hot for his K9 partner. However, the alarm was left inside the car because Curry was trying out a body camera that took up space on his vest.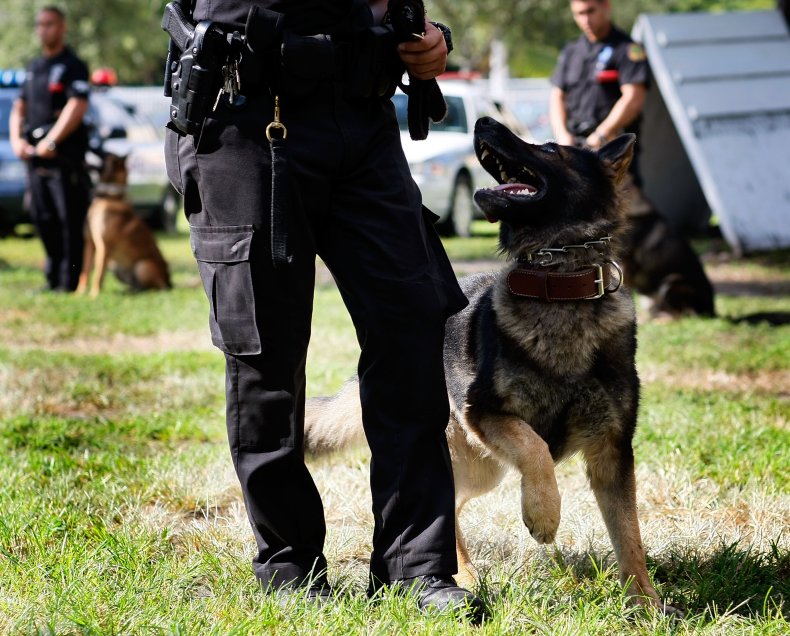 In 2016, a memo written by another officer said the alarm system was "useless" and "rarely works correctly or at all," which had led many to abandon them. Maricopa police found that Curry had not noticed missing antennas and loose connections on the K9 heat alarm.
Requests for money to upgrade the alarm systems had been approved by the department but had not materialized.
Officer Curry was given 20 hours of unpaid leave from his department for several code violations.
Cars can quickly reach high temperatures that put animals at risk of serious illness and death, even if the windows are cracked.
One study showed that the interior temperature of vehicles parked in outside temperatures ranging from 72 to 96 F rose steadily as time increased. Another study​, by the Louisiana Office of Public Health, found that the temperatures on a hot but cloudy day exceeded 125 F within 20 minutes.
In 2019, a K9 dog in Southern California died in a police car after becoming overheated.
Registered with the Long Beach Police Department, Ozzy was with his assigned officer in their department-issued K9 vehicle. Both Ozzy and his handler were off-duty during the incident, which authorities called an accident.
Investigators said the heat alert system was not working at the time and the Long Beach Police Department said it was "extremely saddened to announce the death of K9 Ozzy."
"We believe this was an accident and we are taking all the necessary steps to avoid this from happening in the future," they said in a statement.