Arizona Pollster Suggests Majority of State's Residents Who Want Schools Opened Don't Have Kids
An Arizona pollster suggested that a majority of the state's residents who want schools to reopen during the ongoing pandemic don't have children.
Speaking to Politico on Tuesday, Paul Bentz, a pollster for HighGround, said, "One of the issues we're seeing and thinking a lot about are the folks who don't have kids and how they perceive the current educational environment."
He added that "there is almost unilateral belief that kids need to get back into the classroom [so that they] aren't learning from behind a screen" among Arizona residents who don't have children under 18.
Speaking to Newsweek, Bentz expanded on his point, saying that "in the state of Arizona, when it comes to likely voters, only about 30 percent of likely voters have kids at home."
"The other 70 percent do not have any children under the age of 18 living with them," he said. "There's an assumption or general belief that a lot of voters are parents, but actually in a state like Arizona, where there's a lot of retirees, most voters don't have kids at home."
Bentz added that since most likely voters in the state don't have kids, they also "are not dealing with the day-to-day operations of a school, particularly in a pandemic. They don't have firsthand knowledge of what is happening in the schools right now. Mostly it's being driven by what they're seeing in the media and what's on cable television."
While Bentz was unable to provide Newsweek with any recent polling data, he noted that "when it comes to those without kids at home, there is a larger number, because they are not directly affected by it, who believe in general that the schools should be open and that kids should be in the classroom."
Bentz's comments come amid battles over the reopening of schools during the coronavirus pandemic. Republicans have criticized President Joe Biden's plans to reopen most American schools within his first 100 days in office, according to Politico.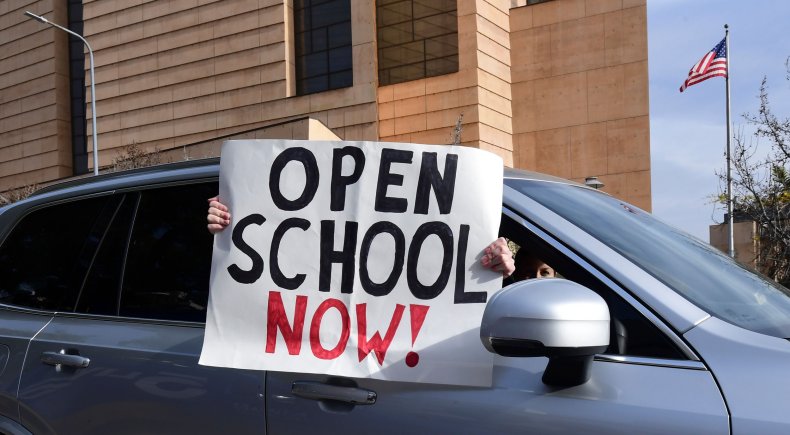 Last Friday, the U.S. Centers for Disease Control and Prevention (CDC) issued new guidelines on how to safely reopen schools. The guidelines use color-coded designations to show the transmission rate of the virus in specific communities. The guidelines recommend that schools reopen in areas with low transmission rates, while areas with higher rates are encouraged to stay closed and offer virtual learning.
Despite the guidelines issued by the CDC, many Republicans continue to criticize Biden and Democrats over schools that remain closed.
"The science says that the schools should open, but instead of listening to the science, the Biden administration is caving in to Democrat special interest groups," Republican National Committee Chair Ronna McDaniel told Politico. "As a result, the education of our children is suffering and hundreds of thousands of working moms are being forced out of the workforce."