Arizona's Department of Health Services reported Friday the largest single-day increase in coronavirus cases in the state since the pandemic began.
The department said there were 3,246 new cases reported as of June 19, topping a previous reported high of 2,519 just a day before.
Additionally, there were 41 newly reported deaths, which brings the state's total numbers to at least 46,689 confirmed cases and 1,312 deaths. The department also reported that as of Friday, there have been at least 532,697 coronavirus tests completed in both public and private settings, and 7.8 percent of the tests have come back positive.
Across Arizona, the majority of total cases have stemmed from Maricopa County, which reported at least 25,999. After Maricopa County is Pima County with 5,019 cases; Yuma County with 3,857; and Navajo County with 2,928.
In addition to the increase in cases, the state on Thursday saw the largest number of positive or suspected COVID-19 patients in emergency rooms with 1,109. The department also reported the largest single-day number of positive or suspected COVID-19 patients in the hospital with 1,832 on Friday.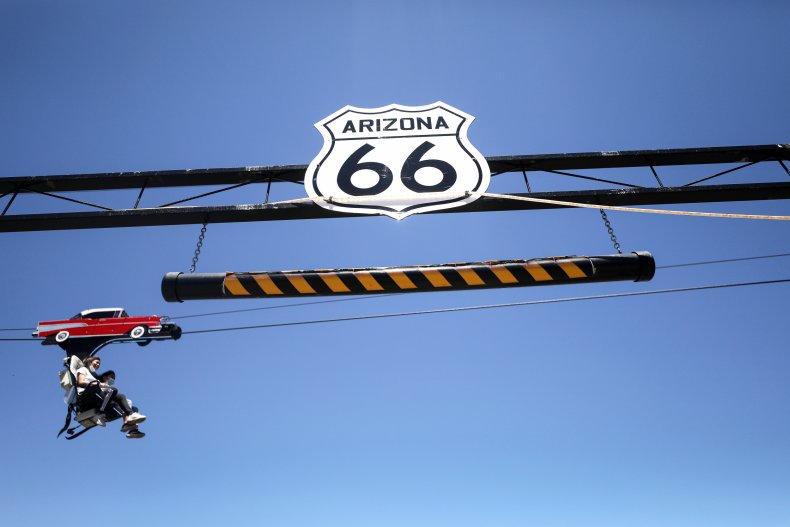 The single-day record number of cases comes slightly over a month since the state's stay-at-home order expired on May 15 and coronavirus restrictions began to be lifted. During a press conference on June 11, Arizona Governor Doug Ducey suggested that the recent spike in cases stems from increased testing conducted across the state.
"It's important that people know we are not seeing an increase in patient volume, we are prepared if that increase should come," Ducey said. "The facts are, we got an increase in testing, an increase in testing and an increase in positive test results. So we're going to continue to stay laser-focused on COVID-19."
The Arizona governor added that the state is prepared to "expect the worst."
Despite the recent increase in cases, Ducey told mayors across the state that they could make their own laws on face mask requirements, instead of imposing a statewide order as happened in New York, Michigan, Maine, Delaware and Maryland.
Meanwhile, the mayors of Tucson and Phoenix said they would move quickly to prepare a vote on mandatory face mask requirements in their respective cities.
The new coronavirus, which causes the respiratory disease COVID-19, has continued to spread across the U.S. According to a tracker provided by Johns Hopkins University, there are currently over 2.2 million cases across the country, as well as at least 118,519 deaths.
Newsweek reached out to the Arizona Department of Health Services for comment, but did not receive a response in time for publication.