Arizona Rep. Calls Troop Exit From Germany 'Dangerous' As He Tries to Block Trump's Future Moves
A Democratic Congressman is sounding an alarm that the U.S. troop exit from Germany will make European allies vulnerable to attack as he ramps up efforts to block President Donald Trump's efforts to withdraw thousands of troops from the region.
Representative Ruben Gallego of Arizona, a veteran who served as a Marine corporal in the U.S.-led war in Iraq, told Newsweek that the move would expose the Baltic states of Estonia, Latvia and Lithuania. The former Soviet republics—along with fellow ex-Warsaw Pact country Poland—were designated the hosts for four multinational NATO battle groups after the Russian-led 2014 political crisis in Ukraine.
"The strategic value of our men and women there is number one, deterrence, deterrence is cheap or it's expensive," Gallego told Newsweek. "Number two, you're also basically eroding the foundation of NATO, which is extremely valuable to us, both, obviously, on a strategic level, but also on the global level, where we have to compete against all these near-peers, Russia and China."
Earlier this month, Gallego introduced provisions to the 2021 National Defense Authorization Act (NDAA) that call for a 120-day freeze in troop movements in Europe following news that Trump planned to pull 9,500 troops from Germany, a major logistics hub for the Pentagon and bulwark against Russia.
The amendment passed the House Armed Services Committee, but has not yet been approved by the full legislature. Trump nevertheless pushed forward with what he championed as a cost-saving plan, announcing Wednesday the repositioning of nearly 12,000 personnel from Germany, some back to U.S. and others elsewhere in Europe—a move Gallego described as "very dangerous."
"I have had conversations with European defense ministers and ambassadors regarding this troop movement," Gallego told Newsweek. "They are worried that it will lessen deterrence against Russia."
The worry stems in part from simulations from RAND Corporation dating back to 2016 that show Russian forces could likely steamroll their way into the Baltic capitals within a day and a half. The removal of about two-thirds of U.S. troop strength from Germany could open up those Baltic states to Ukraine-like aggression.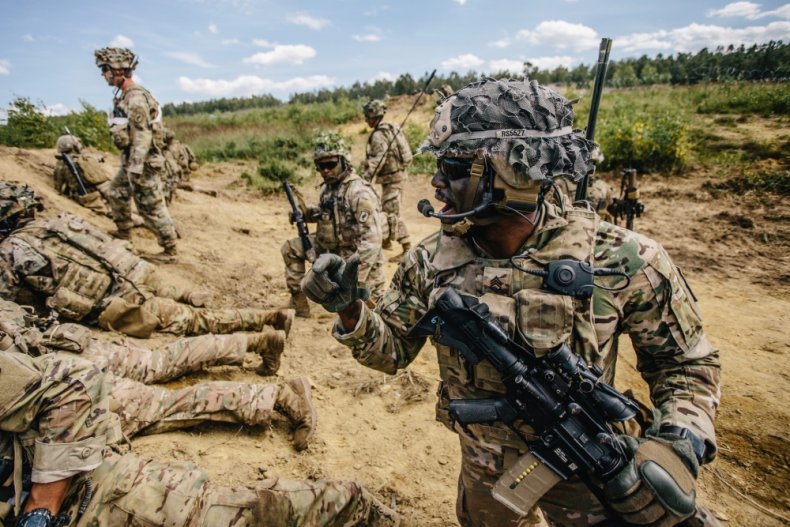 Moscow welcomed the move as a rollback against an expansionist NATO, which has crept eastward during the past two decades.
"We've never concealed that the fewer U.S. soldiers are on the European continent, the calmer it is in Europe, this position of ours is well-known, especially since after the end of the Cold War bloc standoff there have been no real dangers or threats, and ephemeral threats can be made up as much as you like," Kremlin spokesperson Dmitry Peskov said Thursday, according to the state-run Tass Russian News Agency.
Mikhail Ulynov, the Russian ambassador to Vienna-based international organizations, dismissed the notion of the U.S. withdrawal being a "threat" to Germany, arguing the country's security "will not be affected," while it would likely benefit politically and the only economic impact would be on communities around U.S. bases there.
The Trump administration has acknowledged the decision was born out of a defense spending spat with Berlin. The president told reporters at the White House on Wednesday that "we spend a lot of money on Germany, they take advantage of us on trade, and they take advantage on the military, so we're reducing the force."
"Now, if they start paying their bills—I would think about it," Trump added.
Defense Secretary Mark Esper said that same day that the repositioning of U.S. troops, which includes sending some troops home and boosting other U.S. military positions in Belgium and Italy, met the five principles of enhancing deterrence of Russia, strengthening NATO, reassuring allies, improving U.S. strategic flexibility and EUCOM operational flexibility and taking care of U.S. personnel throughout the process.
But in Germany, the move was met with a negative reaction from senior officials, such as Bavaria Prime Minister Markus Soder. He tweeted Wednesday that the move had no clear "military benefit" and "weakens NATO and the United States itself in the long run."
Speaking to local broadcaster BR24, he described Trump's actions as "probably a conscious decision against Germany."
A poll published Monday by Gallup showed approval ratings of U.S. leadership were at record lows across Europe, dropping as low as 11 percent in Germany. Berlin's image among the international community, however, came in first, reaching 44 percent approval as opposed to the United States' 33 percent, China's 32 percent and Russia's 30 percent.
While Gallego's amendment to halt the U.S. pullout received bipartisan endorsement at home along with the NDAA, it also received backlash from both sides of the aisle. In an op-ed published Wednesday by The Daily Caller, Republican Representative Matt Gaetz of Florida and Democratic Representative Ro Khanna of California joined forces to urge Congress not to block efforts to bring U.S. troops home.
"U.S. troop encampments at Cold War-style garrisons were designed to stop Soviet tanks from invading Germany—not to confront the challenge Russia poses in the 21st century," they wrote. "Unlike those beating the drums for war, we have the American people on our side. Americans of every political stripe are calling on Congress to celebrate, rather than shun, our troops' well-deserved homecoming."