Arizona Reports Another Record Coronavirus Increase on Day of Trump Rally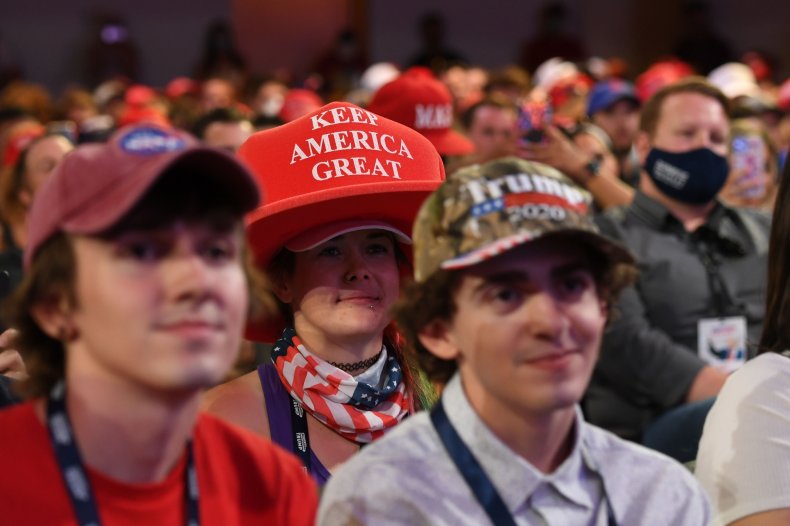 Arizona recorded its largest single-day increase in coronavirus cases on Tuesday, reported only hours before President Donald Trump was set to take the stage at a rally in Phoenix.
There were 3,591 new confirmed cases of COVID-19 reported on Tuesday, according to the Arizona Department of Health Services (ADHS). Hospitalizations were also at an all-time high with 2,136 hospital beds occupied by COVID-19 patients on Monday, 144 more than were reported the day before.
The increases were reported as Trump was preparing to take part in a rally organized by the groups Students for Trump and Turning Point Action. On Saturday, the president held his first rally since the pandemic began at Tulsa, Oklahoma's BOK Center, speaking to a crowd of around 6,200 at the 19,000-capacity arena. Tuesday's rally is being held at Phoenix's Dream City Church, a venue with a capacity of under 3,000.
Trump is focusing attention on immigration during his visit to the state. Before the rally, he took part in a border security roundtable discussion in Yuma and visited the construction site of a section of border wall in nearby San Luis. A poll released Friday by Hill-HarrisX indicated that fewer than half of voters who viewed immigration as "the most important issue" last year continue to do so now, while COVID-19 is the topic issue for voters in 2020.
Arizona Republican Governor Doug Ducey has resisted calls from health care professionals to mandate the wearing of face masks amid the state's soaring cases of COVID-19, although last week he relented in allowing local authorities to impose their own mandates. Many cities quickly announced they would be requiring masks, including Phoenix.
On Monday, Phoenix Mayor Kate Gallego insisted that Trump's rally was "not sanctioned or permitted" by the city. She urged the president and attendees to wear masks, while making it clear that the city would not be enforcing the requirement at the event.
"While I do not believe an event of this magnitude can be held safely, particularly as Arizona sees rising COVID cases, the president has decided to continue with this rally," Gallego said in a statement.
Although experts say the virus can easily spread at crowded indoor events, the Trump campaign is not requiring masks or mandating social distancing at rallies. Instead, attendees are asked to sign a waiver before attending the event. As they enter the venue, they are given temperature checks and masks that they can choose to wear voluntarily.
On Monday, a White House spokesperson told Newsweek "the president takes the health and safety of everyone traveling in support of himself and all White House operations very seriously," while insisting the event would "incorporate current CDC [Centers for Disease Control and Prevention] guidance and best practices for limiting COVID-19 exposure to the greatest extent possible."
Arizona has seen 58,179 confirmed cases of COVID-19 since the pandemic began, including 1,384 deaths.
An ADHS spokesperson told Newsweek that "Arizona's most vulnerable residents" were being protected by Ducey's recent executive order, which included additional testing, contact tracing, educational efforts and other preventative measures.
"Public health officials are closely monitoring all metrics related to COVID-19 and use this Arizona-specific, real-time data to inform public health recommendations," the spokesperson said. "Current data does support that there is widespread transmission across Arizona."
"Due to the spread of COVID-19 in our communities, it is imperative for everyone to practice preventive measures such as staying home when they are sick, staying at least 6 feet away from individuals that don't share the same household, wearing a cloth face covering when out in public, washing their hands frequently with soap and water for at least 20 seconds, and disinfecting frequently touched surfaces," they added.
Update 6/24, 4:09 p.m.: This article has been updated to include a statement from the Arizona Department of Health Services.