Arizona Republican Eyes Ban on Abortion Pills Over Lack of Supervision
Arizona Republican gubernatorial candidate Kari Lake said she supports closing abortion clinics and banning abortion pills.
Lake made the comments in response to questioning from Fox News' Bret Baier during an interview on Monday, three days after the U.S. Supreme Court released a ruling that overturns the nearly 50-year-old decision of Roe v. Wade that protected a pregnant woman's right to an abortion.
The decision overturned the 1973 ruling that protected women who seek an abortion "without undue restrictive interference from the government," guaranteed under the 14th Amendment. The case at the heart of the decision was Dobbs v. Jackson Women's Health Organization.
Medication abortions might be a loophole in states looking to restrict access, and the Biden administration has committed to continuing access to pills approved by the Food and Drug Administration (FDA). However, it's unclear how much the White House can intervene in guaranteeing access and, if elected governor, Lake doesn't consider it safe for Arizona residents.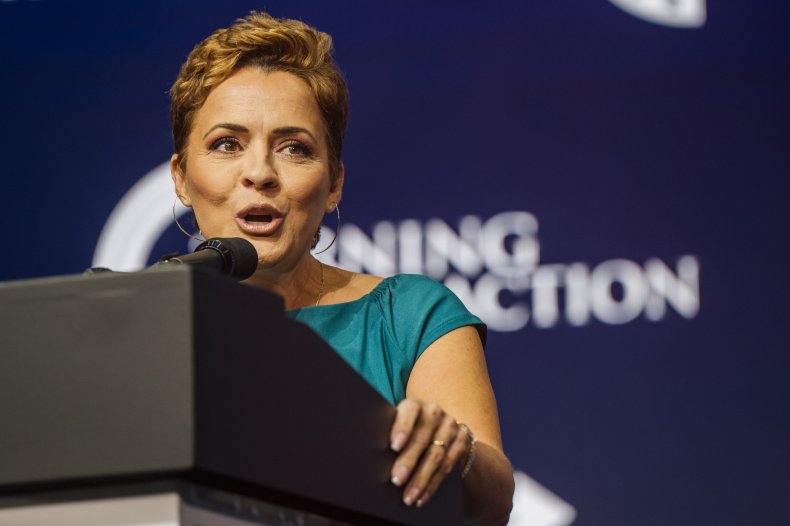 On Tuesday, Lake told Baier that she would "very much support" banning abortion pills in the state.
"I think it's really scary that a young, afraid mother could be at home taking a pill without medical supervision," Lake said. "It could be the end of the mother as well."
While Lake expressed concern about women undergoing abortions without medical supervision, she supported the closure of all abortion clinics. Lake told Baier if she's elected governor, she'll let the Legislature pass laws "to protect the unborn." She noted that if abortion is illegal, it will be "very difficult for abortion clinics to survive and be open."
The Supreme Court's recent ruling left Arizona abortion law up in the air because there are two laws on the books and few can agree on which supersedes the other. In March, Republican Arizona Governor Doug Ducey signed Senate Bill 1164 prohibiting a physician from performing an abortion past 15 weeks gestation, except in a medical emergency.
While women cannot be prosecuted for receiving an abortion after 15 weeks according to the law, physicians can be punished with felony charges and possibly have their medical licenses suspended or revoked.
"In Arizona, we know there is immeasurable value in every life—including preborn life," Ducey said in a statement following the bill's signing. "I believe it is each state's responsibility to protect them."
However, a law from 1901 that was never repealed makes abortion punishable by up to five years in prison. Arizona Senate Republicans said the state would revert to this pre-Roe law—making abortion exceptions only for mothers in peril, with providers potentially facing two to five years in prison for breaking the law. Other officials, though, have said the 15-week ban will be the law.
Planned Parenthood of Arizona (PPAZ) suspended all abortion services following Friday's Roe decision due to Arizona's "legal landscape." It continues to offer multiple reproductive and sexual services, including gender-affirming care and other health exams.
"We believe everyone's body is their own–and theirs alone," PPAZ said in a statement. "But now, the Supreme Court has taken away our federal right to abortion and overturned Roe v. Wade—turning its back on nearly 50 years of precedent.
All Planned Parenthood Arizona locations, in addition to at least three private Phoenix clinics and one Tucson clinic, paused all abortions as of Friday, according to the Arizona Republic.
In her interview with Lake, Baier mentioned how the mayors of Phoenix and Tucson "do not want to move forward with this" and "will push back" against anti-abortion measures.
Lake responded by calling the Democratic mayors, Kate Gallego of Phoenix and Regina Romero of Tucson, "socialists" who "are always trying to push back."
When Gallego was first elected, she pledged to work with Planned Parenthood Advocates of Arizona "to build a healthier Phoenix...where women have access to the healthcare they need and feel supported to make the right choices for their families."
On Friday, she tweeted that she was "deeply disappointed" with the Supreme Court's decision.
"Phoenix is a pro-choice city," Gallego wrote. "A majority of the city council and I have no interest in using city resources to prevent women from accessing healthcare."
Jeanine L'Ecuyer, a spokesperson for Gallego, said in a statement to Newsweek that Gallego has managed two successful businesses and landed a $12 billion chip fabrication plant in Phoenix—"definitely not the credentials of a socialist."
"While Ms. Lake continues to use what appears to be the only play in her playbook— attempting to score points via schoolyard bullying tactics—Mayor Gallego has been clear Phoenix will not prioritize the investigation or prosecution of health care personnel," L'Ecuyer said. "Instead, the Phoenix Police department will remain focused on the issues impacting this community, with a particular focus on violent crime, especially violent crime involving guns."
Romero called the ruling "hard to accept," saying the higher court "delivered a wrecking ball, dismantling the rights of some people in this country."
"The future of abortion law in Arizona is ambiguous, but one thing is clear: If we do not have autonomy over our bodies, then what is freedom?" she tweeted on Tuesday. "SCOTUS was willing to strike down 50 years of settled law. What are they coming after next?"
A statement in response to Lake's comments was made by Romero and provided to Newsweek, in which she stated that reproductive rights are on the ballot this year.
"Voters in November will reject candidates who want to reverse women's rights back to the days of pre-statehood," Romero said. "This reflects the sad state of Republican politics in Arizona, where primary election candidates are competing for who can be the most outrageous, conspiracy-embracing candidate. Arizonans deserves better."
Lake will face off against Scott Neely, Matt Salmon, Karrin Taylor Robson and Paola Tulliani-Zen in the August 2 primary.
Newsweek reached out to Lake's campaign for comment.
Update 6/29/22, 11:45 a.m. ET: This article was updated to include comments from Kate Gallego spokesperson Jeanine L'Ecuyer and from Regina Romero.