Arizona Republican Issues Statement Amid Backlash Over Drug Cartel Claims
An Arizona lawmaker has issued a statement as she faces significant backlash from Republican colleagues after a witness she brought before a committee made unsubstantiated claims that drug cartels had bribed public officials.
State Representative Liz Harris issued a brief statement on Monday as Republicans in the state legislature criticized her for bringing Jacqueline Breger before a hearing on election security.
Breger made unverified allegations that drug cartels were engaged in paying bribes to public officials in Arizona, including judges and elected officials such as Democratic Governor Katie Hobbs.
Following backlash that included strong criticism from her fellow GOP lawmakers, Harris issued a statement on messaging app Telegram on Friday that read: "What was presented at Thursday's hearing was not sufficient to substantiate these extraordinary claims."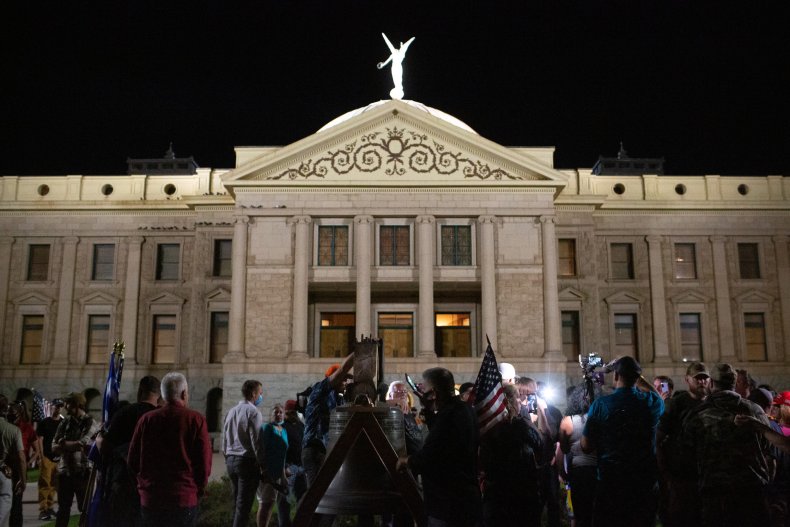 "Our committee's job is to listen to a number of experts and members of the public and the mere fact that we listen to a presentation does not mean that we endorse or agree with it," the statement continued.
It was shared to Twitter by journalists, including Brahm Resnik, who covers politics and democracy for KPNX/12News (NBC) Phoenix.
"JUST IN With Republican leadership calling her out & threats of defamation lawsuit, Republican State Rep. Liz Harris walks it all back in this 6pm Telegram post: The speaker Harris invited couldn't back up her wild claims," Resnik commented.
Berger made the allegations during a hearing of a special joint committee involving members of both the Senate Elections and House Municipal Oversight and Elections committees on February 23.
The unproven bribery allegations reportedly originate from filings in a divorce-related case where they were made by John Thaler, who accused his ex-wife and former mother-in-law of being involved in a scheme to bribe public officials and help drug cartels launder money through bogus real estate deals.
Harris posted and then deleted a Telegram post that appeared to support Thaler's allegations, according to a report from The Arizona Republic.
"The strength of Thaler's investigation is not rooted in theory, equations or statistical deviations, but rather thousands of documented falsified transactions," Harris wrote on Saturday.
State House Speaker Ben Toma and Senate President Warren Petersen placed the blame for Berger's testimony on Harris.
In a statement on Monday, Toma said: "What should have been a joint hearing to examine commonsense election reforms devolved into disgraceful fringe theater.
"I'm not alone in believing that it was irresponsible and bad judgment for Ms. Harris to invite a person to present unsubstantiated and defamatory allegations in a legislative forum."
Petersen said he had agreed to the hearing at the request of Toma and Harris, according to the Associated Press, and that Majority Leader Sonny Borrelli had asked to review materials before the hearing but that he was not shown the bribery allegations.
"I assure you, had he [Borrelli] known about the report, he would not have allowed it to be included," Petersen said in a statement.
"This was definitely not the proper venue to make such allegations, nor to assess the credibility of such statements," Petersen said.
Republican lawmakers in Arizona have probed allegations of voter fraud in elections since former President Donald Trump's defeat in 2020. Former GOP gubernatorial candidate Kari Lake has repeatedly claimed the 2022 election was stolen from her and is continuing to mount a legal challenge.
Newsweek has reached out to Liz Harris' office for further comment.