Arizona Republican Votes With Dems to Block Tax Cut As Family Evacuates Home Amid Fire
Republican state Rep. David Cook traveled to the Arizona Capitol on Monday to vote against his own party's massive tax cut package as his family evacuated their home to escape the Telegraph Fire.
Arizona House GOP leaders failed to pass their $1.9 billion income tax cut measure today after Cook joined Democrats in voting against it as the wildfire moved closer toward his district. Republicans were aware of Cook's intention to oppose the measure, but forced a vote in hopes that he would change his mind.
Cook explained his decision to constituents in District 8 in a Facebook post on Sunday.
"As a conservative Republican with a consistent conservative voting record, I believe we need not mirror the federal government and continue with the borrowing and debt," he wrote. "Paying off our financial obligations as a state before spending more money is a Republican value I have encouraged my fellow lawmakers to consider before casting their vote."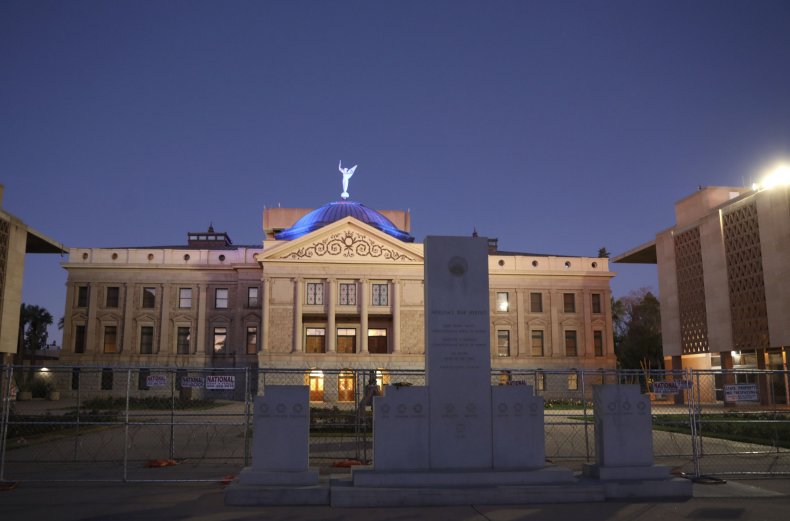 He added: "We as conservatives again need to be fiscally responsible and cut taxes as much as possible while also paying off the state's debt and not saddle our grandchildren with the past legislature's bad decisions."
Ahead of the vote, Cook told local news that he believed that COVID-19 relief money "has created a false economy and I believe it's prudent to take some time to ensure we don't send the state off a fiscal cliff."
After the vote, the lawmaker announced that he found out his family were asked to evacuate their home near the city of Globe. He also accused GOP leadership of forcing the vote when they were aware that they lacked the votes.
"Just got word at my house that they are asking us to evacuate," he tweeted. "I was brought away from my home to vote on bills that did not have the votes in the house or senate on purpose to be on record."
A few hours later, Cook said he asked a member of his family to fill up a water truck and tank to protect the barn, buildings and hay.
Eastern Arizonans living in the cities of Globe and Superior were forced to or are preparing to evacuate due to the Telegraph and Mescal Fires, which have burned more than 100,000 acres as of Monday afternoon.
The Telegraph Fire "is a fast moving and dynamic fire," according to the website of the interagency Incident Information Center.
Newsweek reached out to Cook for comment. This story will be updated with any response.