Arizona Republicans Pose as Communists to Make Illegal Donation to Democrat Congressman Tom O'Halleran's Campaign
Two men affiliated with the Arizona Republican Party allegedly attempted to make a campaign donation to a Democratic congressman while posing as communists in an apparent sting attempt.
The men, believed to be members of the Northern Arizona University Republicans, attempted to give $39.68 to the campaign office of Democrat Tom O'Halleran while desperately seeking a receipt for the money for the Northern Arizona University Communist party, reports The Guardian.
They pair are alleged to have wanted to make a donation in the name of the communist party in order to smear the Democrat by associating him with the far-left.
The men used the aliases Jose Rosales and Ahmahd Sadia while attempting to make the donation. When they were informed that they would only get an emailed receipt for the donation, "Rosales" scratched out one email and wrote another in while filling out the required paperwork.
After becoming suspicious of the pair, O'Halleran's campaign team then posted a video of Lindsay Coleman, the finance director for the campaign, returning the cash to the Arizona Republican party headquarters in person.
"I am here because two young gentlemen made this contribution to our campaign," Coleman said as she arrived at the front desk. At this point the man who allegedly called himself Rosales comes out from behind a door, with another man behind the desk informing Coleman that his real name is Oscar.
Coleman, who appears to recognize Oscar, then described how Oscar "gave the donation under the name of Jose, which I might also add it illegal to falsify contribution information." Coleman adds she will "probably report this to the police."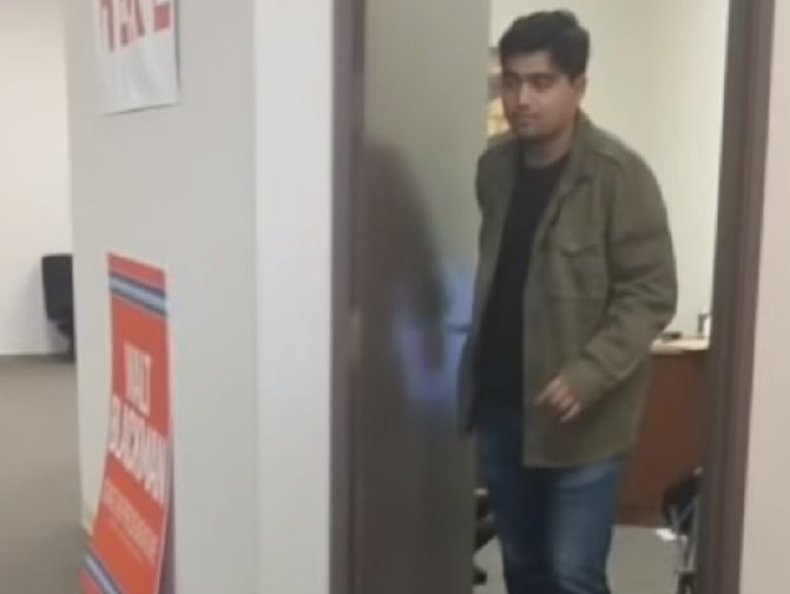 "Oscar, I have your cash and I would like to return it to you please," Coleman then shouts, prompting Oscar to return once more from behind the door.
"I'm returning the funds which you've just made to our campaign under the name Jose Roseles claiming to be with NAU Young Communists when in fact you are with the NAU Young Republicans and your name is Oscar.
"Thank you for your support, but we cannot accept your funds," Coleman adds.
The man named Oscar did not dispute the claims from Coleman, even wishing her a great day as she leaves.
The Arizona Republican Party did not immediately return a request for comment.
Correction 10/25: In the original version of this story, Lindsay Coleman's name was misspelled.