Arizona School District Delays Reopening of Schools Because Too Many Teachers Refuse to Show Up
An Arizona school district had to delay its reopening after too many teachers refused to show up out of safety concerns amid the coronavirus pandemic.
The J. O. Combs Unified School District, located southeast of Phoenix, voted earlier this week to return to in-person classes when the school year officially begins August 17, despite teachers participating in "motor marches" in July to protest reopening.
J. O. Combs administrators did an about-face, however, days before students were set to return to classrooms. Superintendent Gregory Wyman announced Friday that the district would not open at all because too many of its teachers said they wouldn't show up.
According to a statement from Wyman, the district had received an "overwhelming response" from staff saying they didn't feel it was safe to return to classrooms with students.
A district spokeswoman told the Arizona Republic that out of the 600 employees in the district, approximately 250 are teachers. Nearly half of them -- 109 certified staff members -- had put in for absences on the first day of school, she said.
"Due to these insufficient staffing levels, schools will not be able to re-open on Monday as planned," Wyman wrote in his statement. "At this time, we do not know the duration of these staff absences, and cannot yet confirm when in-person instruction may resume."
The district has had 23 employees resign since July 1, with four employees quitting since J. O. Combs voted to reopen this week, the Republic reported.
Newsweek contacted J. O. Combs for comment, but did not hear back in time for publication.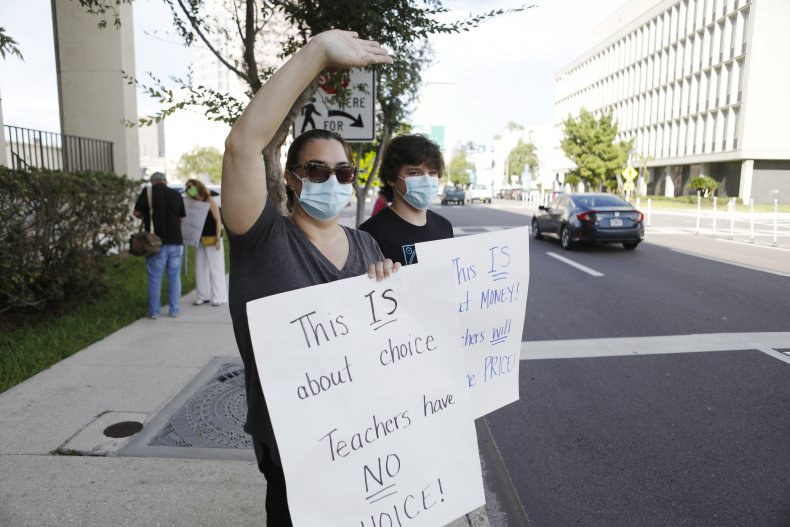 The Arizona Department of Health Services released benchmark data on August 6 to help school leaders determine when or if they could safely reopen classrooms for in-person learning.
The three benchmarks include: a decline in cases; two consecutive weeks with percent positivity below 7 percent; and two consecutive weeks with COVID-19 hospitalizations in the region below 10 percent. Schools are not required to meet these metrics, however, and can choose to reopen regardless of what the data shows.
State Superintendent Kathy Hoffman had announced the new measures along with Arizona Department of Health Services Director Cara Christ. Hoffman said most communities across the state were not currently meeting the three data points, the Republic reported.
Pinal County, home to J. O. Combs, has reported 8,665 coronavirus cases as of August 14, according to the county's website. According to its data, the county has met two of the three benchmarks recommended for reopening schools.
Within the two-week period of July 12 through 26, the most recently available data, Pinal County has seen a decline in cases and decrease in COVID-19 hospitalizations. It did not meet the percent positivity metric, as this number was hovering close to 11 percent on July 26.
Arizona Governor Doug Ducey said during a press conference Thursday that it was up to individual school districts to choose if they wanted to reopen. Hoffman disagreed.
"I think that's really toxic for the community that they're making decisions that are putting their staff and their teachers' lives at risk," Hoffman said at a meeting with the University of Arizona's Education Policy Center Thursday, according to KTAR News. "It's very devastating."
In his statement, Wyman wrote that J. O. administrators were continuing to monitor the staffing situation and would share an update by 5 p.m. Monday.
"Please know that we are acutely aware of how polarizing this issue is, and how challenging these ongoing developments are for our entire community," he wrote. "We will continue to work closely with our employees and our families to develop solutions that provide a safe and healthy return to school."