Arizona Sen. Martha McSally Trails Democratic Challenger By Double Digits With 3 Weeks To Election: Poll
The results of a new Monmouth University poll released on Thursday said that Arizona Senator Martha McSally was trailing her Democratic challenger, Mark Kelly, by 10 points with just under three weeks remaining before Election Day.
The race between McSally and Kelly is for one of a handful of Senate seats that Democrats are hoping to flip this election cycle.
"Both campaigns have been trying to paint their opponents in a negative light," Monmouth University Polling Institute Director Patrick Murray said in a Thursday news release. "Among that all-important group of independent voters, the image of McSally as a rubberstamp for Trump has more resonance than Kelly being portrayed as in lockstep with the left,"
Of the registered voters polled, 52 percent said they would vote for Kelly and 42 percent said they would vote for McSally. Kelly's 10-point lead represents a shift of voters in his direction since earlier Monmouth polls were conducted in September and March. Both of those polls also said Kelly was in the lead, though by a slimmer—6 percent—margin. Though the poll results published on Thursday said Kelly's lead slimmed back down to 6 percent when lower voter turnout variables were applied to the data, higher voter turnout scenarios put his lead at 10 points.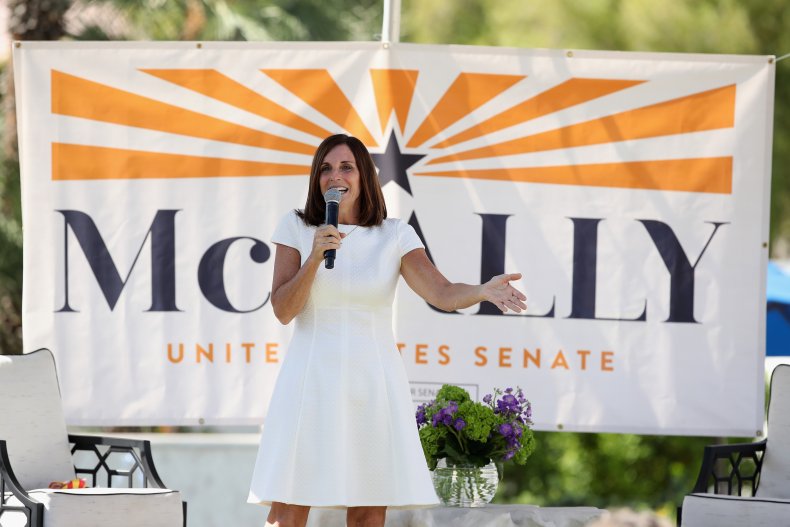 According to Monmouth pollsters, Kelly had a lead among voters younger than 50 and older than 65, while McSally was leading among voters in the 50 to 64 age group. Kelly also had a stronger favorability rating among voters than McSally did, with 45 percent of voters also telling pollsters they found McSally unfavorable compared with 32 percent who said the same about Kelly.
Just under half of the voters polled—49 percent—said that they believed McSally was "too supportive" of President Donald Trump, according to the poll. In contrast, 45 percent of the respondents told pollsters they thought Kelly would be "more beholden to the left-wing" of his party if he were elected, while 43 percent said they believed he would serve as an independent voice for the state.
McSally, a Republican, began representing Arizona in the Senate in 2019 after she was appointed in late 2018 to fill the seat left vacant following the death of former Senator John McCain. Her appointment followed a 2018 campaign for another Senate seat after former Senator Jeff Flake retired. That 2018 race was close but ended with McSally conceding to her Democratic opponent, Kyrsten Sinema.
Kelly, a former U.S. Navy captain and NASA astronaut who is married to former Rep. Gabrielle Giffords, announced his campaign for Senate in February 2019, shortly after McSally took her seat. Most polls conducted amongst voters in the state in recent months said Kelly was favored to win the election as he held a consistent lead over McSally.
Monmouth pollsters said about one in five of the poll respondents said they planned to vote in person on Election Day, though a majority said they planned to cast their votes by mail. More Democrats than Republicans had already voted, with 19 percent of respondents saying they sent their ballots in before speaking with pollsters. According to the poll, 24 percent of the Democrats polled said they had already voted, compared with 18 percent of Republicans and 17 percent of independents.
The latest poll from Monmouth University surveyed 502 registered voters in Arizona by phone between October 9 and 13 with a 4.4 percent margin of error, according to the poll.