New Arizona Senate Election? Donald Trump Claims There's Been 'Corruption,' Suggests New Vote, as Democrat Takes Lead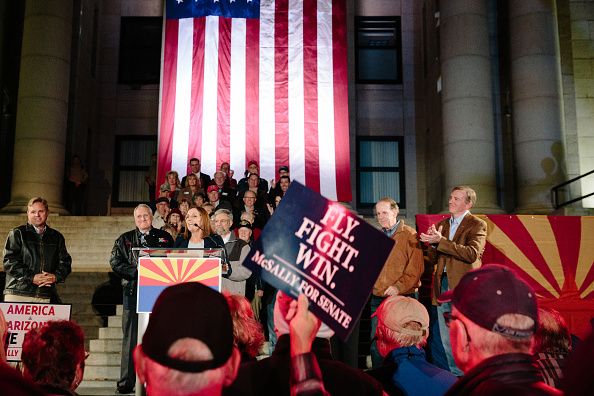 Donald Trump is calling for a "new election" in Arizona as the Senate race between Martha McSally and Kyrsten Sinema remains too close to call.
"Just out — in Arizona, SIGNATURES DON'T MATCH. Electoral corruption - Call for a new Election? We must protect our Democracy!" Trump tweeted on Friday afternoon en route to Paris for Armistice Day celebrations.
Three days after the heated midterm elections, the Senate race to fill retiring Jeff Flake's congressional seat remains too close to call. The latest vote totals show Democrat Sinema to be leading her Republican opponent by 9,000 votes, or just half a percentage point.
The signatures the president were to are those that appear on mail-in ballots but do not match the ones already on file in two of the state's largest counties. Arizona county recorders have been calling voters to verify that those signatures are in fact authentic. One of those mail-in voters included Cindy McCain, the wife of the late Senator John McCain, who served Arizona for more than two decades.
But Republican groups statewide filed a lawsuit to halt the official counting of the mail-in ballots, arguing that calling voters after Election Day was a violation of state law. Mail-in ballots account for about three-fourths of Arizona's votes, and Sinema's campaign believes that the ones still being tallied will be in her favor.
"Yesterday and this morning confirmed our expectation that as the ballots are counted, Kyrsten will steadily build her advantage," her campaign manager said in a statement Friday morning.
With Sinema now in the lead, Republicans are at risk of achieving a smaller majority in the Senate that looked likely on election night. Depending on who is declared the winner of this race, as well as a still-undecided election in Florida, the GOP will either have 52 or 54 seats in the chamber.
Trump was a supporter of McSally, giving her his endorsement and stumping for the candidate a number of times. During a rally in Mesa, Arizona, in mid-October, the president said that McSally, a former Air Force colonel and combat fighter pilot, was "brilliant and brave." He went on to call Sinema a "very, very strange opponent."
It's unclear if an entirely new election could be called due to "electoral fraud," as Trump claimed. The U.S. Constitution does not lay out a process for do-overs, though occasionally courts have ordered new elections for offices other than the presidency if a case of fraud or error is proven. In 1975, a redo of a Senate election in New Hampshire was ordered after multiple recounts.