The Arizona Republican charged with serving as a "liaison" between the GOP-led state Senate and the controversial 2020 presidential election audit in Maricopa County announced that he is stepping down on Wednesday, but in the evening took back his statement, saying he will not resign.
Ken Bennett, who served as the Arizona Secretary of State from 2009 to 2015, made the remarks during a Wednesday interview with conservative talk radio host James T. Harris. Bennett told Harris that, despite having played an integral role in the months-long effort, recent events have made him question whether his continued participation in the audit could put his own credibility at risk.
Republican State Senate leaders permanently banned Bennett from the building where the audit is taking place last week after it emerged that he had shared audit data with outside analysts without receiving prior permission from State Senate President Karen Fann, according to The Arizona Republic. Bennett said that he was "surprised" that Fann on Monday insisted that he would still "be involved and a vital part of" the audit's final reports.
"I was very surprised by the letter released yesterday by President Fann. I do remain locked out of the audit and as such it's impossible for me to really function as the liaison," Bennett told Harris. "I am going to step down today...I won't pretend to be part of a process or pretend to be the liaison when I'm not."
But on Wednesday evening, Bennett announced that he would not resign, having made an agreement with Fann, according to The Arizona Republic. He will also be allowed back in the building where the recount was taking place.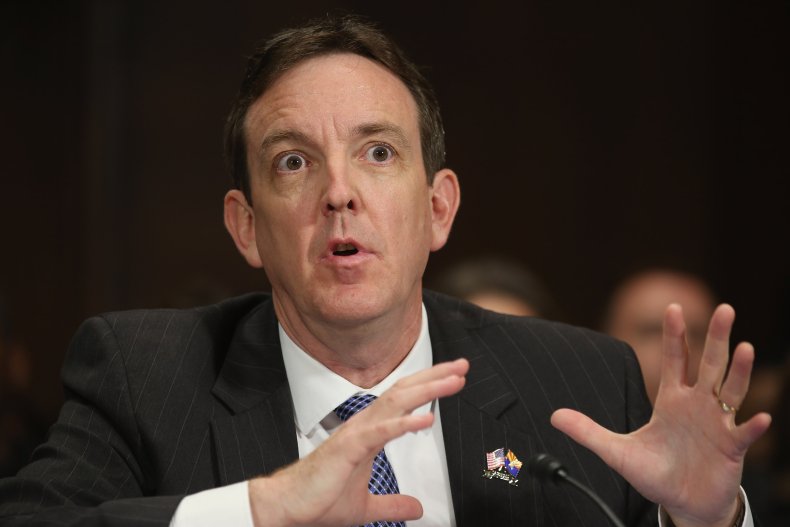 Bennett referred to himself as a "liaison in name only," or "LINO"—apparently mocking the "RINO," or "Republican in name only" moniker—which some have recently used to describe Republicans who refuse to unquestioningly endorse the audit or those who pledge anything less than total fealty to former President Donald Trump and his unsubstantiated claims of massive election fraud.
"Right now I'm the liaison in name only—I don't know if that makes me a LINO, or what," said Bennett. "I cannot put a rubber stamp on a product that I am being locked out of its development...I'm the liaison in name only and I cannot be locked out of a process that is at its most critical phase as far as producing the final report that is going out to the public."
The controversial audit is being led by a firm called Cyber Ninjas. Critics have expressed concerns about a shambolic and partisan audit process, noting that Doug Logan, the firm's CEO, made several social media posts before the audit took place which indicated his support for conspiracy theories that falsely claim the election was "stolen" from Trump.
While Bennett insisted that he still supports the audit despite stepping down from his role on Wednesday, he is far from the first prominent Republican in the state who previously professed enthusiasm for the audit but is now voicing concerns about its credibility and transparency.
Republican State Senators Paul Boyer and Michelle Ugenti-Rita have both recently denounced the audit. Boyer said that supporting the "ridiculous" audit made Republicans state lawmakers "look like idiots," while Ugenti-Rita called the audit "botched" and accused Fann of a "total lack of competence."
Whatever results emerge from the audit's final reports, the 2020 election outcome will remain unchanged. President Joe Biden won Arizona by over 10,000 votes last November—results that were certified by Congress, granting Biden all 11 of the state's Electoral College votes.
Newsweek reached out to Fann's office for comment but did not hear back before publication time.
Update (7/28/2021, 10:00 p.m.): This article has been updated to reflect that Bennett changed his mind about resigning.