Arizona Senate Polls: Democrat Kyrsten Sinema Leading Trump Favorite Martha McSally in Crucial Midterm Race
New polls gave Democrat Kyrsten Sinema as much as a six-point lead over her Republican opponent Martha McSally in the widely watched Arizona Senate race to replace retiring lawmaker Jeff Flake. The winner would become the first woman senator in the state's history.
The latest NBC/Marist survey, which was conducted in late October, found that the state's likely voters supported Sinema over McSally 50 to 44 percent if the election were held that day. When the poll included Green Party candidate Angela Green, Sinema's lead over McSally shrunk to three percentage points. The poll also found the gap to be much smaller among Arizona's registered voters, with 44 percent supporting Sinema and 43 percent supporting McSally.
Sinema holds a large advantage over McSally among Latino, independent and women voters. McSally leads her Democratic opponent among whites and men, according to the survey.
The poll came after weeks of vicious sparring between the two candidates as they made their final campaign pushes, amid even more negative ads and hostile rhetoric. The two have each spent millions on television ads, making their race one of the most expensive midterm battles in the country.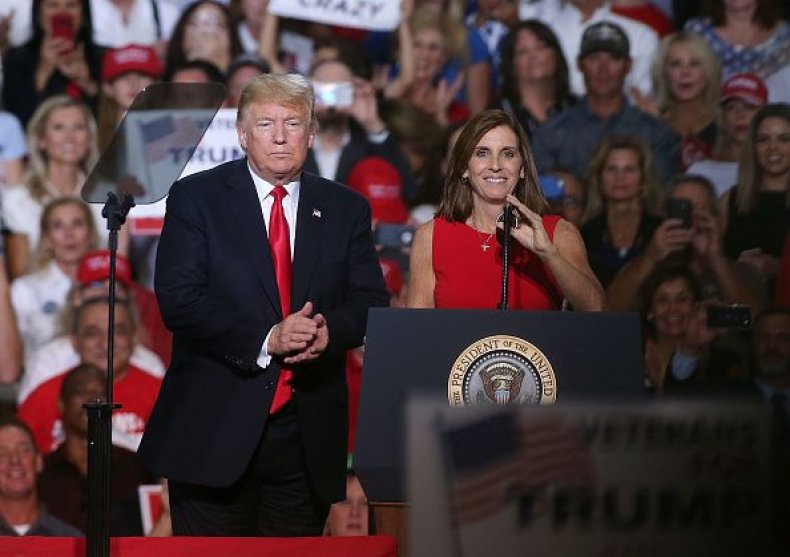 McSally has repeatedly used the image of Sinema in a pink tutu during anti-war protests while slamming the Democrats for "denigrating" the service of military members. Advertisements from political groups that have endorsed McSally portrayed Sinema as "soft on child prostitution" and as thinking it's OK for Americans to join the Taliban.
Sinema has released negative ads of her own, which claim McSally has "betrayed veterans" and lied to Arizonans. The Democrat even launched a website called MarthaForSenate.com, which attacked McSally's votes on Obamacare, education and privacy.
In a heated debate less than a month before the election, McSally accused Sinema of "treason" three times. Sinema replied that her Republican opponent was "just trying to cut, cut, cut and not share the full picture."
Earlier this month, Sinema received the endorsement of the largest newspaper in the state, The Arizona Republic. It was the first time the historically conservative news outlet had endorsed a Democrat in 18 years.
But McSally has the support of President Donald Trump, who has repeatedly endorsed the Republican congresswoman and rallied on her behalf earlier this month. At the campaign event, Trump said that "anybody who votes for a Democrat now is crazy" and called Sinema "too extreme" to represent Arizona in Congress.
Earlier polls showed the race as a toss-up, with Real Clear Politics's polling average consistently showing the candidates within less than one percentage point of each other. But the most recent surveys indicate a swing in Sinema's favor. Along with the NBC/Marist poll, the latest CNN survey shows Sinema beating McSally by four percentage points, 51 to 47.