Mark Kelly's Chances of Beating Republicans in Arizona, According to Polls
Arizona's Democratic Senator Mark Kelly aims to win reelection in November as Republicans see his previously comfortably red seat as a key race to win in their bid to regain control of Congress' upper chamber—with polls currently showing an advantage for the incumbent.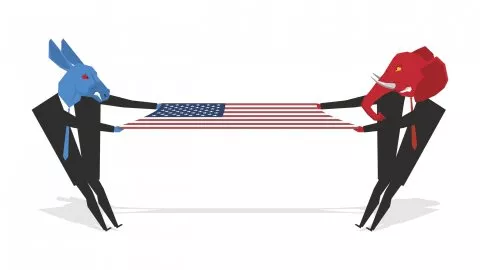 Kelly managed to flip a longtime GOP-held seat blue for Democrats in a special election in 2020. The seat was previously held by Martha McSally, a Republican who was appointed to serve Arizona in the Senate until the special election for the remainder of deceased GOP Senator John McCain's term.
Kelly won in that race by a margin of 2.4 percent. The retired NASA astronaut won the support of 51.2 percent of Arizona voters, compared to 48.8 percent that backed McSally. Prior to the Democratic senator's victory, the Arizona seat had been held by Republicans since 1969. The 2020 election also saw President Joe Biden become the first Democratic presidential candidate to win in the southwestern state since 1996.
As Arizona's primary won't be held until August 2, it's still unclear whom Kelly will face off against in November. The leading GOP contenders are Arizona Attorney General Mark Brnovich, businessman Jim Lamon and venture capitalist Blake Masters. Former President Donald Trump officially threw his weight behind Masters on Thursday, endorsing his candidacy in the Republican primary. But recent polls show Masters in third place among the GOP hopefuls.
The latest survey data shows Kelly well-positioned against all three of the top Republican contenders. Blueprint Polling found the Democratic incumbent leading all of his potential GOP rivals by double-digit margins.
Kelly performs best against Brnovich, with a lead of 17 points. The incumbent senator has the support of 50 percent of likely voters while Arizona's attorney general is backed by just 33 percent. The results are about the same when Kelly is pitted against Masters, with an identical lead of 17 points. However, the Democrat is only backed by 49 percent of likely voters in that matchup compared to the Trump-backed candidate's 32 percent.
Lamon does slightly better against Kelly. The Republican hopeful is supported by 34 percent in the matchup and the incumbent Democrat has the backing of 48 percent—a difference of 14 points in favor of Kelly. The poll surveyed 608 respondents and had a margin of error of plus or minus 4 percent.
In a previous poll conducted by Data for Progress in January, Kelly appeared to be in a much closer race with Brnovich. The Democrat incumbent had the support of 49 percent of likely voters compared to 47 percent who backed the GOP hopeful—a lead of just 2 points for Kelly. The poll included 1,469 likely voters with a margin of error of plus or minus 3 percent.
That survey did not ask respondents about Kelly versus the other two leading Republicans. However, it did show that the Democrat's favorability with Arizonians was underwater. In total, 49 percent of likely voters in the southwestern state held an unfavorable view of their senator. Just 46 percent held a favorable view. Moreover, more than a third (36 percent) said they held a "very unfavorable" view of Kelly compared to only 30 percent who said they held a "very favorable" opinion of him.
Another January poll carried out by OH Predictive Insights showed Kelly leading when pitted against a generic Republican opponent. That survey found that 42 percent of Arizona's registered voters would back the Democrat's reelection. Meanwhile, 38 percent said they would vote for his GOP challenger. There were 855 registered voters included in the poll with a margin of error of plus or minus 3.4 percent.
With a little more than five months until the midterm election, and with the Republican challenger still unknown, a lot could change between now and November. Overall, the data suggests Kelly is favored to win reelection, but considering Arizona's historic Republican lean and his relatively narrow victory in 2020, the race will likely be close and could swing back in favor of the GOP. Even with Arizona going for Biden and Kelly in 2020, political news and polling analysis site FiveThirtyEight's assessment shows that the southwestern state continues to have a 7.6 percent partisan lean in favor of Republicans.
{{#isDisplay}} {{/isDisplay}}