Tuesday's Republican Senate primary in Arizona will likely boil down to one contentious issue: immigration.
Over a third of Republicans say that immigration is the top problem in America, according to a recent Gallup poll, and 22 percent of all Americans agree.
President Donald Trump and other Republicans have made border security their priority issue on the Midterm campaign trail, most recently seizing on the death of Mollie Tibbetts, a 20-year-old college student allegedly murdered by an undocumented Mexican immigrant, as proof that a hardline immigration approach is necessary.
But in Arizona, a border state that's shifting from red to purple, the debate between moderately conservative GOP Senate frontrunner Martha McSally and her far-Right, Trumpian competitors, Kelli Ward and Joe Arpaio, has become a case study for the rest of the country.
Ward has said she believe a budget should be passed in Congress without full funding for a border wall and supported the separation of parents and children at the Southern U.S. border. Former Sheriff Joe Arpaio was pardoned by Trump last year after being convicted of criminal contempt of court for refusing to stop racially profiling and detaining people he believed to be undocumented immigrants.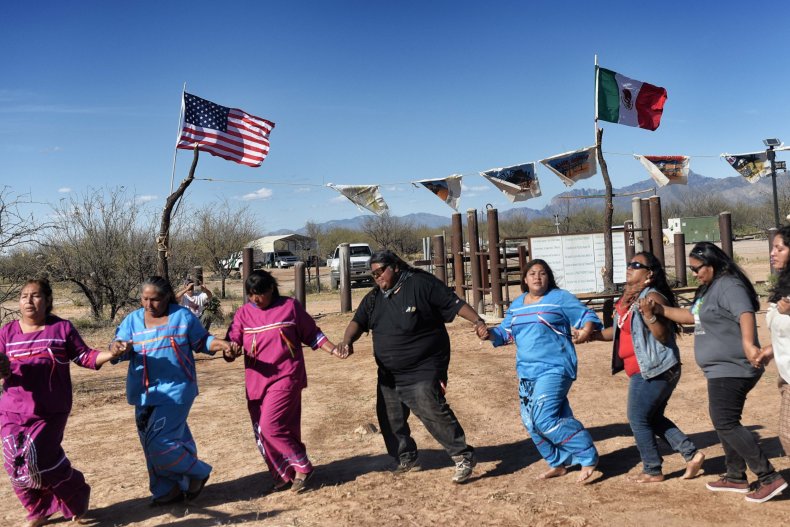 McSally meanwhile, has shifted her once-moderate position on immigration further to the right in order to compete with her dogged opponents. McSally went from supporting a GOP compromise immigration bill to backing the Securing America's Future Act which would end the diversity visa program and increase border enforcement.
"It's no shock that McSally has been changing positions on key policy issues since she decided to run for higher office," said Chad Willems, Arpaio's campaign manager in a statement. "But for her to flip-flop so late in the game is just embarrassing."
Still, McSally supporter and former Arizona governor Jan Brewer is in favor of the changes. "I think that she's evolved and she understands that this is a huge, huge issue," said the governor who signed a bill into law allowing police to question anyone they thought could be undocumented.
Democratic challenger Representative Kyrsten Sinema, once a Green Party advocate, has also moved to the right on immigration. The candidate says that Immigration and Customs Enforcement performs an important and essential function, and supported bills in the House that would increase penalties for immigrants with multiple deportations and give federal authorities the ability to deport noncitizens who live in gang areas.
"What I'm really proud of is my ability and willingness to learn and grow as a political leader," she told The Associated Press. "That's allowed me to learn new opinions and change as I've gotten new information."