Arizona State Rep Says 'Quality' Of Votes Should Matter, Only Informed Should Cast Ballots
A conservative Arizona state lawmaker rationalized his support for a Republican-backed bill to restrict voting access on Thursday, as legislators aim to pass a series of similar measures.
Discussing one legislative proposal that would remove certain voters from a state roster dictating which residents receive absentee ballots automatically, Republican Rep. John Kavanagh told CNN that "everybody shouldn't be voting."
His remarks referenced a bill that passed in the Arizona Senate on Monday. If passed during an upcoming House session, the bill would require that permanent registered voters who have not participated in the past four elections submit an official notice expressing their desire to receive mail-in ballots during future contests. All voters who meet that criteria would receive letters from the state before forthcoming elections to gauge their interest in voting absentee. It would not send mail ballots to those who fail to respond with express confirmation.
Kavanagh chairs the Arizona state Senate's Government and Elections Committee, which approved the bill's passage earlier this week. Echoing arguments from some other Republicans, both within and outside of Arizona, the legislator suggested that this type of measure could provide a safeguard against voter fraud, according to CNN's reporting.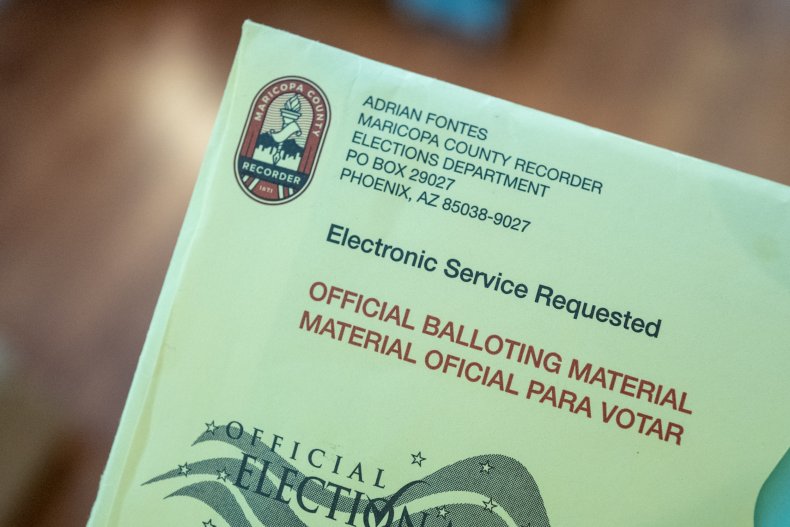 "There's a fundamental difference between Democrats and Republicans," Kavanagh said in comments to the news outlet. "Democrats value as many people as possible voting, and they're willing to risk fraud. Republicans are more concerned about fraud, so we don't mind putting security measures in that won't let everybody vote—but everybody shouldn't be voting."
The state representative reportedly discussed effective grassroots efforts by Democratic—and some Republican—groups in several states ahead of the most recent general election. He noted that "you can greatly influence the outcome of the election if one side pays people to actively and aggressively go out and retrieve those ballots," in comments regarding strategies to reach and mobilize voters who are not registered, or are registered but have yet to cast ballots.
"Not everybody wants to vote, and if somebody is uninterested in voting, that probably means that they're totally uninformed on the issues," he continued, according to CNN. "Quantity is important, but we have to look at the quality of votes, as well."
Former president Donald Trump's false claims of election fraud causing his loss to President Joe Biden last November have been widely discredited, in court and national discourse, although remnants of his accusations continue to fuel some GOP-led legislative priorities. Upwards of 250 bills to limit voting rights were introduced in state legislatures across the country during the first few months of 2021.
Newsweek reached out to Kavanagh for further comment but did not receive a reply in time for publication.