Arizona State Senator Calls for New Election, Says Biden Electors Must Be Recalled
Arizona Republican Sen. Wendy Rogers is calling for a new 2020 presidential election in her state, demanding officials "decertify the election" that took place in November.
Rogers, who has been a public proponent of Arizona's multiple election audit efforts, took to Twitter Thursday to voice her opinion that, following updates from an election audit many believe to be without merit, if Arizona is to "get this right" a new election must take place.
"I call for the Biden electors to be recalled to Arizona & a new election must be conducted. Arizona's electors must not be awarded fraudulently..." she tweeted Thursday afternoon.
Leading up to her recall demand, Rogers had been prolifically tweeting about the Arizona state Senate update and briefing held earlier in the day on the progress of the Maricopa County 2020 election audit being conducted by Cyber Ninjas, a Florida firm that had no previous experience with auditing election results.
Rogers used her Twitter account to tweet and retweet dozens of posts questioning the legitimacy of the election and the transparency of the audit.
"I have heard enough. With the tens of thousands of ballots mailed without being requested, the over ten thousand people who voted after registering after November 3rd, the failure of Maricopa to turn over the 40% machines, the passwords that Dominion still refuses to turn over, & tens of thousands of unauthorized queries demonstrating how insecure the election was..." Rogers wrote."
Rogers was citing a statement from the founder of Cyber Ninjas, Doug Logan, who reportedly told the state Senate on Thursday that "Thousands of names were added to the voting rolls after election day, but are recorded as casting a ballot in the 2020 election."
Two previous audits found no evidence of fraud. Logan was outed as having repeatedly shared election fraud conspiracy theories on a now-deleted Twitter account, according to The Arizona Republic.
Even if Arizona's 11 electoral votes were somehow overturned, that would not alter the outcome of the 2020 presidential election.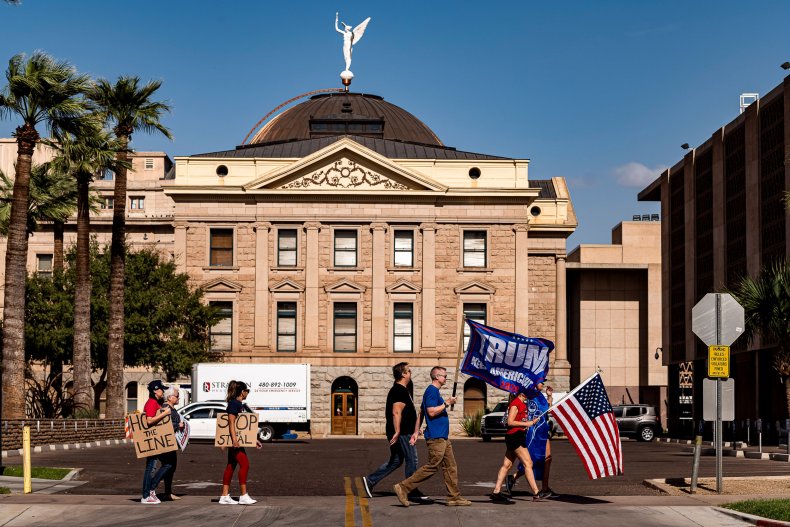 Last month, Rogers took to Twitter to share news of her appearance on an online TV network known for its antisemitism to discuss the election audit with onetime QAnon supporter, Lauren Witzke and Edward Szall. The network was reprimanded by members of Congress in 2019 after the network's host, Pastor Rick Wiles, said that "when Jews take over a country," "they kill millions of Christians."
Newsweek reached out to the Brennan Center for Justice for comment on the details of election law.