Employees of 19 Companies Could Receive A $76,000 College Degree Tuition-Free
With one of the nation's best online degree programs, some students at Arizona State University (ASU) can obtain a tuition-free college education by working for certain companies.
In 2019, U.S. News & World Report ranked ASU the number two school in the nation for online programs and it was that caliber of online education that attracted the attention of several companies.
The program began in 2014 by partnering with Starbucks, and now employees at 19 companies can earn their degree at ASU tuition-free. Each partnership varies in how tuition is financed, whether that be through a reimbursement program or a direct payment by the company to the university. In every case, though, it's an opportunity for students to obtain a college education without potentially insurmountable debt.
Student debt and the cost of higher education in America has reached such prevalent levels that it garnered the attention of President Donald Trump and those who hope to challenge him for the White House in 2020. Legislators differ on the best path forward, with some advocating for loan forgiveness and tuition-free college and others seeking to put more responsibility on the institutions.
As legislators champion their own positions, Phil Regier, University Dean for Educational Initiatives and CEO of EdPlus at ASU, told Newsweek the university's online educational platform was a "natural way" to provide accessible world-class education.
"Providing access to education for all qualified students falls within the charter of Arizona State University ... We need more highly educated college graduates to propel our economy and improve outcomes across the country," Regier said.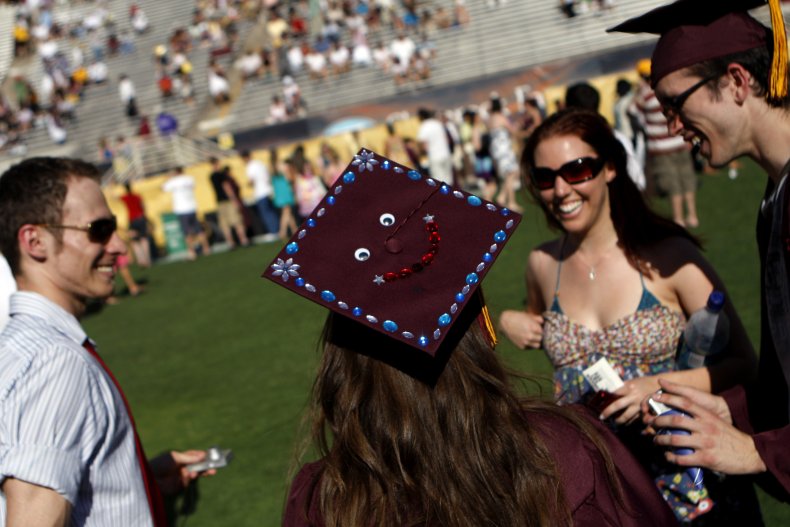 Since starting the program with Starbucks, more than 3,000 employees at the coffee chain have graduated from ASU. Other companies who joined the program include Uber and Adidas, who make up the university's largest partnerships.
Eligibility standards are established by the company and vary. At Starbucks, part-time partners, the company's reference to its employees, must work 240 hours over three consecutive months. For those working at Uber, the driver must have achieved Gold, Platinum or Diamond status and completed 3,000 or more lifetime trips.
Along with offering the program to its drivers, their spouse, domestic partner, child, sibling, legal guardian or dependent is also eligible for tuition reimbursement.
In some cases, ASU bills the student and the company reimburses them. In other cases, the school bills the company directly for unmet tuition costs after scholarships and federal financial aid.
Regier called the corporate partnerships "absolutely" a way for people to obtain an education without the burden of student debt. However, he noted that a tuition-free college isn't a cakewalk, especially for those who are juggling work and family responsibilities.
"Getting a rigorous, high-quality university education like the one Arizona State University provides is never going to be easy," Regier said. "But that doesn't mean we can't work with all our energy to develop and implement innovative solutions to make getting a college degree accessible for as many learners as possible."
Costs for tuition at ASU's online program vary based on the residency status of the student and the degree they wish to pursue. For a business communications undergraduate degree, one of the programs Starbucks employees may select for tuition reimbursement, it could cost an estimated $76,640 if they live outside Arizona.
When the employee graduates, their diploma will state Arizona State University, showing no distinction between their online classes and those a student would take in-person.
Regier said the university places a large emphasis on making sure the quality of their online programs matches what's offered in a face-to-face setting. So, the university offers the same courses and uses the same faculty for both settings. He credited these areas for leading to ASU's high rankings.
"To the core, we believe in a new kind of university that is laser-focused on improving outcomes, whether it be for our students, students at other universities, or for our local, state, national and global communities. We are never going to say, 'OK, that's enough helping,'" Reiger said.