Arizona State Upsets No. 6 Oregon To Shake Up College Football Playoff Possibilities
The top five teams in the College Football Playoff rankings held pat on Saturday, but it was No. 6 that sent teams vying for the fourth spot in the final rankings into a tizzy. It wasn't without drama, though
Arizona State (6-5) defeated Oregon, 31-28, on Saturday in a stunning upset to perhaps create an opening for more one-loss teams and other squads finishing outside of their conference championships to make their case for the final playoff spot. And at this point, the Oregon Ducks (9-2) maybe on the outside looking in.
The applause could be heard from Tuscaloosa to Norman, and even as far away as Waco and Minneapolis.
Arizona State held a 24-7 lead in the fourth quarter before Oregon chipped away with a pair of touchdowns to make it 24-21. Then Arizona State quarterback Jayden Daniels connected with wide receiver Brandon Aiyuk down the left sideline for an 81-yard score to give Arizona State a 31-21 lead.
After unsportsmanlike penalties gave Oregon a rather short field, the Ducks quickly executed a nine-play, 61-yard touchdown drive capped by a Justin Herbert 17-yard pass to Johnny Johnson III.
Arizona State was able to get first downs and run out the clock for the win.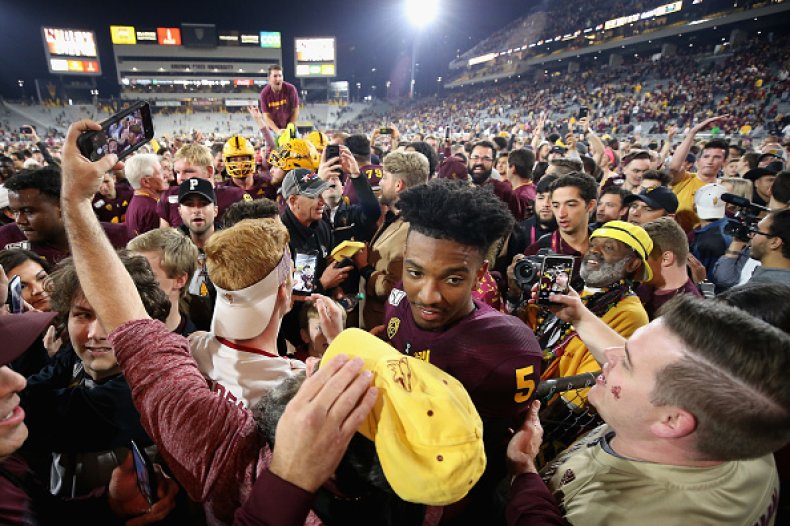 Oregon, now with two losses—the other to No. 15 Auburn— still has an outside chance of making the CFP, but would need big-time help. Oregon will most likely play No. 7 Utah in the Pac 12 Championship.
This capped a day of wild college football on Saturday in which No. 2 Ohio State played deep into the fourth quarter for the first time this year in a 28-17 win over No. 8 Penn State, No. 14 Baylor clinched a spot in the Big 12 championship with a 24-10 over rival Texas, No. 10 Minnesota inched closer to a Big 10 championship game and USC destroyed UCLA.
No. 1 LSU comfortably beat Arkansas (56-20), comfortably because LSU starters were mostly pulled when the Tigers held a 49-6 lead. No. 4 Georgia won a rain-soaked game, 19-13, over Texas A&M and No. 5 Alabama defeated Western Carolina, 66-3.
With just one week remaining in regular season, it sets up intriguing matchups before championship weekend.
Here are the games next weekend that could have direct effects, or ripple effects, on the College Football Playoff rankings.
Oregon needs a myriad of things to happen if they want to make it to the four-team playoff.
Now, here's what lies ahead.
No. 1 LSU and No. 4 Georgia will play in the SEC Championship in two weeks, even if they both lose on Thanksgiving weekend. LSU hosts Texas A&M, and Georgia plays state-rival Georgia Tech.
Ohio State travels to No. 13 Michigan, then will play the Big 10 Championship the next weekend against the winner of this week's No. 10 Minnesota vs. No. 12 Wisconsin winner.
No. 3 Clemson has to travel and face in-state rival South Carolina before a date in the ACC Championship.
No. 14 Baylor and No. 9 Oklahoma will have a rematch in the Big 12 Championship.