Arizona Students Rally for In-Person Classes After 109 Teaching Staff Members Stage 'Sick-Out' to Protest Reopening
On Monday, students in Pinal County in Arizona held a rally, urging the J.O. Combs School District to hold in-person classes, after 109 members of the teaching staff held a "sick-out" rally in opposition of the school reopening.
According to ABC 15 news in Arizona, a senior at Combs High School planned a march in support of the school reopening for in-person classes. ABC 15 news also reported that the march began outside the high school, but protesters made their way down to the J.O. Combs District office.
"It's my senior year, I'm trying to make it into college, get my GPA up, but really online school is not the way to do it," Tristan Smith, one of the student protesters, told ABC 15. Smith also led fellow students and parents in chanting "We need our teachers!" and "We want our teachers in person!" according to ABC 15.
The student protests come shortly after the district announced on Monday that classes would be canceled on Tuesday and Wednesday, "due to continued insufficient staffing."
"While we continue to work diligently on this matter, we also continue to receive a high volume of staff absences, and in turn will have to cancel all classes on Tuesday as well as Wednesday," a statement from the school read.
ABC 15 news also reported that the district was planning to begin their hybrid model of both in-person and virtual learning on Monday, but a district spokesperson stated that 109 staff and faculty members called out, in opposition of the hybrid model.
Several teachers in the district spoke to ABC 15 news and stated that they called out after feeling that they were not prepared to teach students both in person and virtually.
"The issue is that [a] teacher would not be able to tend to the online learners that are on Google," a teacher in the district told ABC 15. "Even in-class learning must be modified for online. So it's a lose-lose for both types of learners."
Some other teachers were more worried about the risks of contracting the new coronavirus, prompting their decision to call out.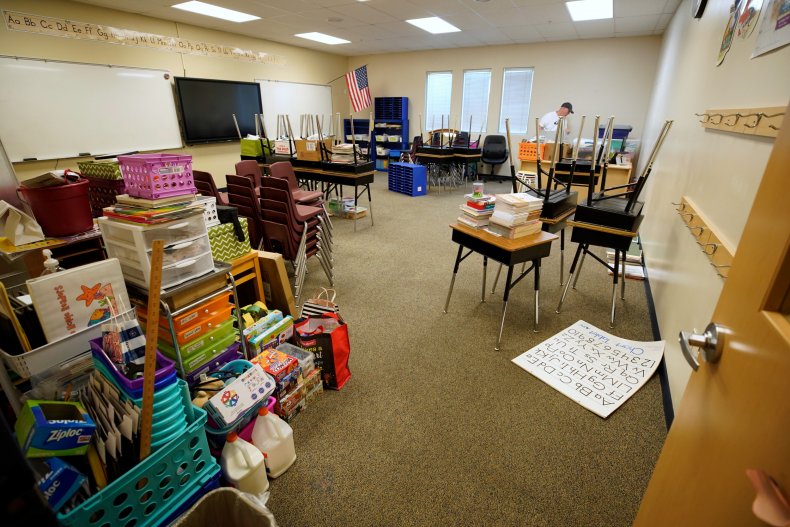 While speaking to ABC 15, J.O. Combs District Superintendent Gregory Wyman, said that a recent survey in the district found 55 percent favoring in-person learning while 45 percent said they favored virtual learning.
"I know everyone wants real simplistic solutions to complex problems," Wyman told ABC 15. "With the lack of comprehensive or coherent plan at the state or federal levels, makes it difficult."
In Arizona, the new coronavirus continues to spread, as there are currently over 194,000 cases of the coronavirus, as well as at least 4,506 deaths.
Newsweek was directed to the statement announcing the cancelation of classes after reaching out to the J.O. Combs School District for comment.