Arizona Tax Reform is a National Model | Opinion
As America recovers from shutdowns imposed in response to COVID-19, many states are experiencing surges in tax revenues unthinkable a year ago. Even so, the federal government has provided trillions in unnecessary spending and "stimulus" funds—even with a number of states experiencing surpluses before they received any federal dollars.
While some legislators see these windfalls as an opportunity to waste money on unnecessary programs, Arizona lawmakers have wisely chosen to reduce the state tax burden.
The coronavirus pandemic and the lockdowns that accompanied it were traumatic and costly for the American people. Millions continue to struggle to make up for lost income, rebuild their small businesses or make sure their kids are prepared to succeed in school again. At a minimum, they ought to be able to keep as much of their hard-earned money as possible. That's the best way to help them accomplish all these goals, and to build the American dream.
Fortunately, the state of Arizona agrees.
The budget recently signed by Governor Doug Ducey includes meaningful, comprehensive tax reforms that address many of the shortcomings in the state's current tax code. Instead of the five different brackets in the existing system, all Arizona workers will soon pay a personal income tax rate of 2.5 percent, except for the highest earners, who will pay 4.5 percent.
This reform was made possible in part by the fact that Arizona was projected to build up a budget surplus of nearly $4 billion over the next three years.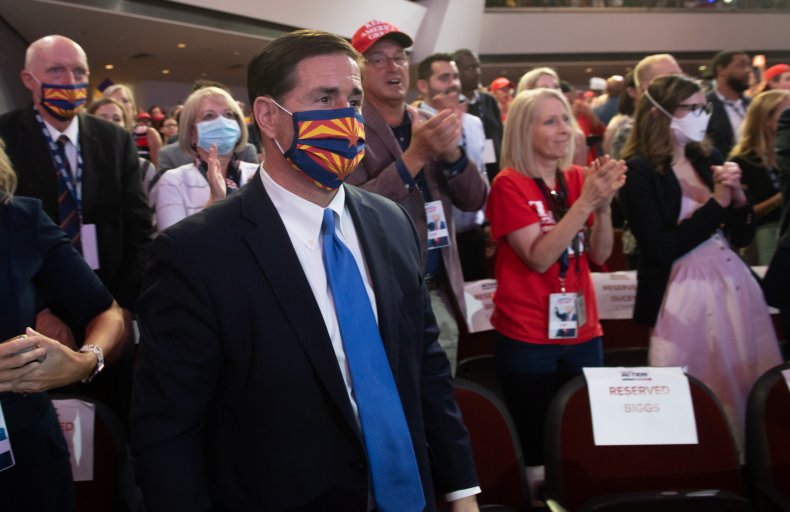 By lowering the income tax rate and making the tax code flatter, the tax burden on all Arizonans is reduced, and families will see real, long-term relief that's desperately needed.
This tax reduction will also boost Arizona's competitiveness, making the state more desirable for both individuals and pass-through businesses, as a majority of small businesses pay taxes under the individual tax code. This will help grow the economy and create jobs going forward—a positive contrast with the past year, which saw so many lost jobs and reduced hours. This reform package sets up the state to recover stronger than ever.
Americans rely on elected officials to recognize and address genuine public priorities, and to do so responsibly and in a way that's consistent with the Constitution. That means keeping taxes as low as possible, so workers can benefit from their labor and don't wind up surrendering their hard-earned money only for it to be wasted.
When tax revenues unexpectedly surge beyond what's needed to respond to real priorities, those funds should be returned to the workers who earned them. Lawmakers can't respond to surpluses by acting like they won the lottery, spending wildly on boondoggles and pet projects. Instead, they should act as careful stewards of tax dollars, ensuring that families pay no more in taxes than is necessary.
This is not the course being taken in Washington D.C., where the White House is forcing through another massive spending bill, this one ostensibly intended to build infrastructure. Washington D.C. sets a bad example.
Arizona, on the other hand, provides a good example: lower the tax rates to let people keep more of what they earn and invest in what they care about most. Limit government spending to grow no faster than the incomes of the citizens who pay the taxes. Create a magnet for job-creating investment and hardworking Americans who simply wish to be left alone to work hard, take care of their families and support their communities.
The Arizona reform is a positive model and one that should be followed by other states and the federal government.
Tim Phillips is president of Americans for Prosperity. Grover Norquist is president of Americans for Tax Reform.
The views expressed in this article are the writers' own.