Child Allegedly Bitten More Than 25 Times at Arizona Daycare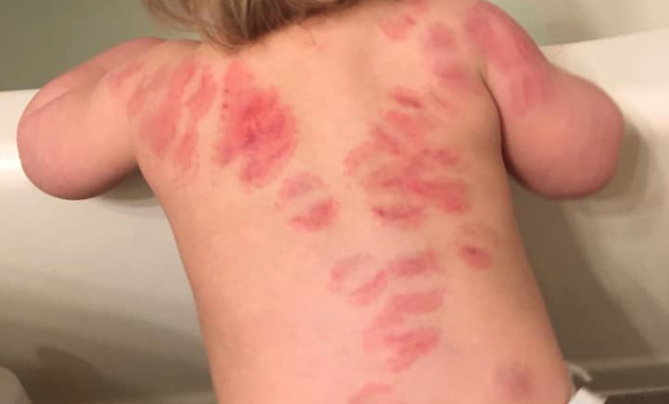 The Arizona Department of Health Services has said an investigation is underway after a baby girl was allegedly bitten more than 25 times while in a Tucson daycare facility.
Police told local media the incident happened at Creative Beginnings Preschool in late February. The case was brought to light yesterday after images of the child's injuries were posted to social media by her mother, Alice Bryant, who said it had now been "closed with no results."
But state officials told KOLD News 13: "The Arizona Department of Health Services (ADHS) is investigating the incident at Creative Beginnings Daycare and working with law enforcement. The investigation is not completed and ADHS cannot comment on pending investigations."
The woman's 1-year-old daughter had allegedly received more than two dozen bite marks from another child while in the care of the facility, which has said the claims are unsubstantiated. The Tucson Police Department confirmed that no charges had been filed and no arrests made.
Bryant told KOLD News 13: "You always want to protect your children and I feel like that didn't happen. I feel like I left her with someone that didn't look out for her at all. It's been two months with as far as I know, no repercussions and there's very unlikely to be any for the daycare."
On Facebook, the images of the baby girl show a multitude of apparent bite marks covering the child's back and shoulders. In some, blotches appear to contain small teeth marks. Bryant wrote that the childcare operators did not inform her of the issue when the child was picked up.
The mother told local media she was worried that a similar incident could happen to another child while in care. "The fact that nobody intervened in how many minutes, maybe they were left alone, maybe they just disregarded the cries, I don't know. But it takes some time to do that kind of biting and my daughter would have been very upset," she told KOLD News 13.
After a strikingly similar event last week, a separate daycare firm in Arizona's Maricopa County apologised yesterday after a different baby girl was left with multiple bite marks on her back. Sunrise Preschools confirmed in a Facebook post that it had happened last Thursday.
A statement read: "A toddler was bitten multiple times by another toddler during a very short timeframe. This should not have happened. Only four children were under the supervision of the caregiver watching the children. That caregiver has been suspended without pay pending further investigation."
KTAR reported that the child's mother, Rocio Enriquez, posted a series of images online. "I was upset and I get it, kids are going to be kids, but when I checked my daughter out she had about 8 bite marks all over her back...how can you justify this?" Enriquez wrote on Facebook April 27.
The child who had bitten the classmate was expelled from the center, Sunrise Preschools noted. Its statement continued: "This unfortunate matter has provided some hard learned lessons."