Arizona Wildfires Map, Update as Hundreds of People Forced to Evacuate
Two wildfires in Arizona have burned thousands of acres and have forced hundreds of people to evacuate their homes.
The Telegraph Fire has burned more than 40,000 acres and is not at all contained. Officials say the fire, which was first reported in the afternoon on Friday, June 4, was caused by a person, but it is still under investigation. The fire has not damaged any structures, and there have been no reported deaths or injuries.
Oak Flat Campground was evacuated on Saturday and Pinal County Sheriff's Office issued a "GO!" alert for Top-of-the-World residents on Sunday.
The Town of Superior is in "SET-Be Alert" status. Tonight, a "GO!" notification has been issued for Miami area residents west of Miami Town limits, and a "SET" notification issued for Miami, Claypool, parts of Central Heights, and the Cobre Valley Regional Medical Center.
The Mescal Fire, which has been burning since Tuesday, June 1, has burned more than 50,000 acres and is eight percent contained. Residents of Coyote Flats, Soda Canyon, and El Capitan have been ordered to evacuate, while residents in other areas have been told to prepare to evacuate.
The Pinal County Sheriff's Office said on Twitter: "If you choose to ignore this advisement, you must understand emergency services may not be able to assist you further. Follow instructions from emergency personnel, stay on designated evacuation routes and avoid closed areas."
A Red Flag Warning is in effect until 8 p.m. local time on Wednesday in southern Nevada and northwestern Arizona, due to strong winds and low humidity.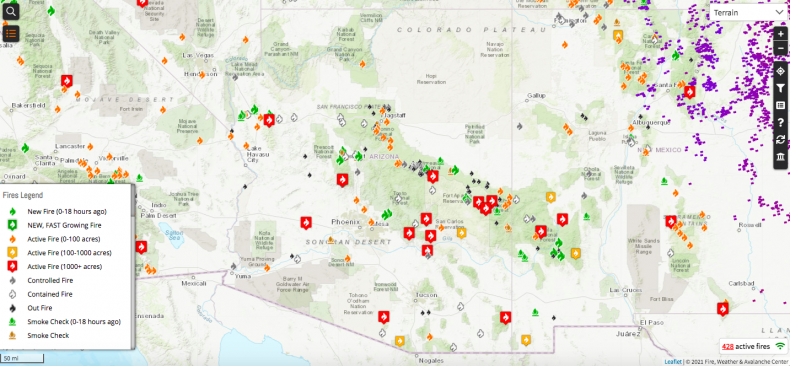 The affected areas include fire weather zones 101 and 102 in Arizona and fire weather zones 461, 462, 463, 464, 465, and 466 in Nevada. The National Weather Services urges residents of impacted areas to heed all local fire restrictions.
South to southwest winds of 20 to 25 miles per hour are expected, with gusts of around 35 miles per hour, while the humidity is forecast to range from five to fifteen percent. Combined with the heat, these factors can contribute to extreme fire behavior and any fires that develop will likely spread rapidly.
On Sunday, Arizona Governor Doug Ducey said: "Praying for the safety of the firefighters from [The Phoenix Fire Department] and neighboring communities working tirelessly in the heat to put out this fire."
Furthermore, the Arizona Department of Health Services is warning against the danger of heat-related illnesses like heat exhaustion and heatstroke. Arizona residents are encouraged to learn about things they can do to prevent, recognize, and treat a heat-related illness, including drinking water and staying indoors.