Arizona Woman Arrested For Leading Border Patrol Agents on Car Chase With Illegal Immigrants Hidden in Trunk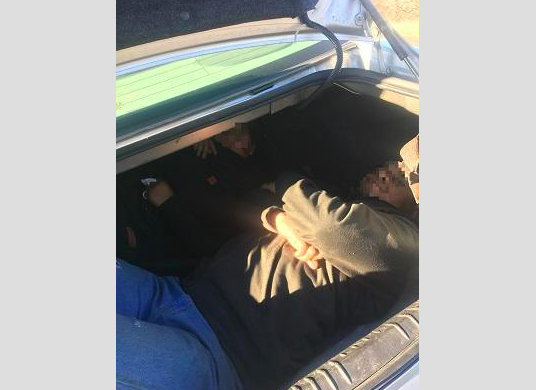 A Phoenix, Arizona woman was arrested this week after she allegedly led Border Patrol agents on a car chase while concealing two illegal immigrants in the trunk of her vehicle.
The 28-year-old woman, who was driving a Chevy sedan, ran into an immigration checkpoint near Amado on Thursday afternoon, according to U.S. Customs and Border Patrol. After entering a primary inspection lane at the checkpoint, agents told the woman to enter the secondary inspection area, but rather than comply, she sped off onto the highway, prompting agents to chase her in their vehicles for roughly one mile.
Authorities arrested the driver when she stopped the car at the Agua Linda Road exit and subsequently discovered two undocumented Mexican immigrants hidden in the trunk of her vehicle. The woman, whose identity has not been publicly released, has been charged with human smuggling and remains in custody.
The two illegal immigrants will be processed for immigration violations, according to the agency. One of them had already been removed from the country at an earlier date, Border Patrol said.
"As temperatures continue to rise, Border Patrol officials warn that Arizona's high temperatures can kill humans riding in the trunk of a car," the agency said in a statement. "Other dangers include carbon monoxide poisoning and the risk of serious injury or death from a vehicle collision."
Despite the incident, the number of unauthorized immigrants residing in the U.S. in 2016 fell to 10.7 million, a figure below any time since 2004, according to the Pew Research Center. The amount in 2016 represents 3.3 percent of the total U.S. population.
According to Pew Research, the total number of undocumented immigrants have also shifted a small amount. While the total portion from Mexico fell to half of all unauthorized immigrants, compared to 57 percent in 2007, the total figure from other countries has largely remained unchanged, compared to 2007. The largest visible growth of unauthorized immigrants lies in those from Central America, from 1.5 million in 2007 to 1.9 million in 2016.
U.S. Customers and Border Patrol did not immediately respond to Newsweek's request for comment.