Arizona Woman Dies Following Weight Loss Surgery in Mexico
A woman in Arizona has died after having gastric bypass surgery done in Mexico, according to her parents.
Gastric bypass surgery is a type of weight loss surgery, also known as bariatric and metabolic surgery, the American Society for Metabolic and Bariatric Surgery (ASMBS) explains.
The parents of Dulce Herrera, whose age is unknown, told ABC 15 Arizona that their daughter died at a Scottsdale hospital, in the Greater Phoenix area, two weeks after she traveled across the border for the procedure.
ABC 15 reported her father Jose Herrera claimed: "Doctors told us she had a severe infection in her intestines from the surgery in Mexico."
According to Herrera's parents, their daughter did some research on social media, where she came across a Facebook group of others who were looking into getting weight loss surgery done in Tijuana, in the Mexican state of Baja California, which borders California.
Both parents are warning others about the risk of having such procedures done abroad and the potentially fatal consequences.
Her mother, Maria Rodriguez, told ABC 15: "If she [my daughter] could hear me now, I would tell her don't do it."
Herrera's father warned: "Do your research before getting a major surgery in other countries, think about it twice because you only live once."
Newsweek has contacted the American Society for Metabolic and Bariatric Surgery, and the International Federation for the Surgery of Obesity and Metabolic Disorders for comment.
MedlinePlus, the information service of the U.S. National Library of Medicine, explains: "Weight loss surgery helps people with extreme obesity to lose weight. It may be an option if you cannot lose weight through diet and exercise or have serious health problems caused by obesity.
"All types have risks and complications, such as infections, hernias, and blood clots," the warns.
The ASMBS says: "Weight loss surgery is very safe and decreases the chance of dying from obesity. In fact, weight loss surgery is safer than removing the gallbladder or having a knee replacement.
"The benefits of weight loss surgery far outweigh the risks. As with any serious surgical operation, the decision to have weight loss surgery should be discussed with your surgeon, family members, and loved ones," it adds.
A 2015 study published by Obesity Surgery that identified 209,106 patients who underwent bariatric surgery between 1998 and 2011, reported "in-hospital mortality rate following bariatric surgery underwent a ninefold decrease since 1998."
According to data from Patients Beyond Borders, quoted in a 2018 study by The American Journal of Medicine, in 2017 over 1.4 million Americans sought health care in different countries across the globe.
Mexico is among the top 10 destinations for medical tourism, according to the 2018 study.
The American Journal of Medicine study noted: "Because we [U.S.] have the most expensive health care system in the world, it is not difficult to find countries that offer various procedures at 30 percent to 65 percent of the cost of care in the United States," citing figures from Patient Beyond Borders.
According to a 2015 report from the U.S. International Trade Commission, "South America represents the largest destination market" for U.S. air travelers going abroad for healthcare reasons.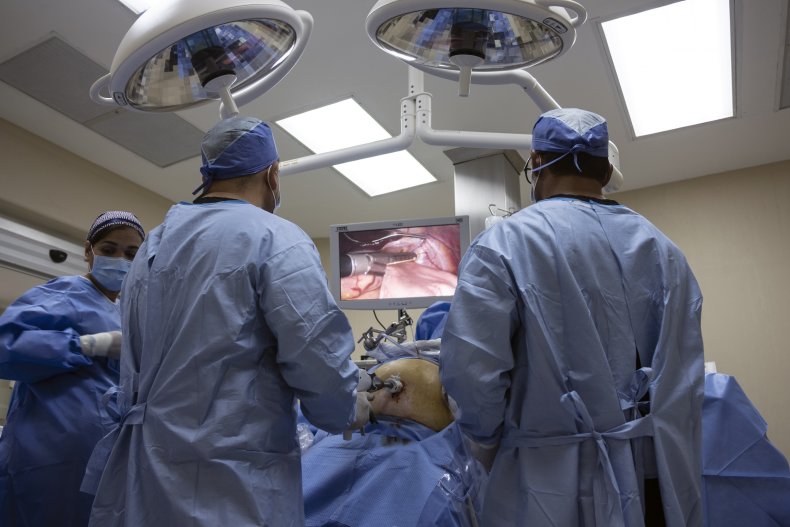 Newsweek, in partnership with NewsGuard, is dedicated to providing accurate and verifiable vaccine and health information. With NewsGuard's HealthGuard browser extension, users can verify if a website is a trustworthy source of health information. Visit the Newsweek VaxFacts website to learn more and to download the HealthGuard browser extension.