Arizona's Madison Bumgarner Throws No-Hitter That Won't Count As No-Hitter
Arizona Diamondbacks pitcher Madison Bumgarner did something Sunday that's one of the most difficult things in all of sports. Bumgarner pitched a complete game and allowed no hits, which should technically give him a no-hitter.
But with new COVID rules and the way no-hitters are played these days, Bumgarner won't get a no-hitter to his credit.
Bumgarner threw seven hitless, and scoreless, innings in a 7-0 win over the Atlanta Braves in the nightcap of a doubleheader. However, both games of the twinbill were just seven innings apiece. According to Major League Baseball's rule, a pitcher must throw nine innings (or more) for a game to be deemed a no-hitter.
There's no telling whether Bumgarner could have kept up his magic for another six outs, and he acknowledged that fact.
"I don't know. There's too many variables," Bumgarner said after Sunday's game. "If it worked for seven, it's hard to imagine it not working for two more."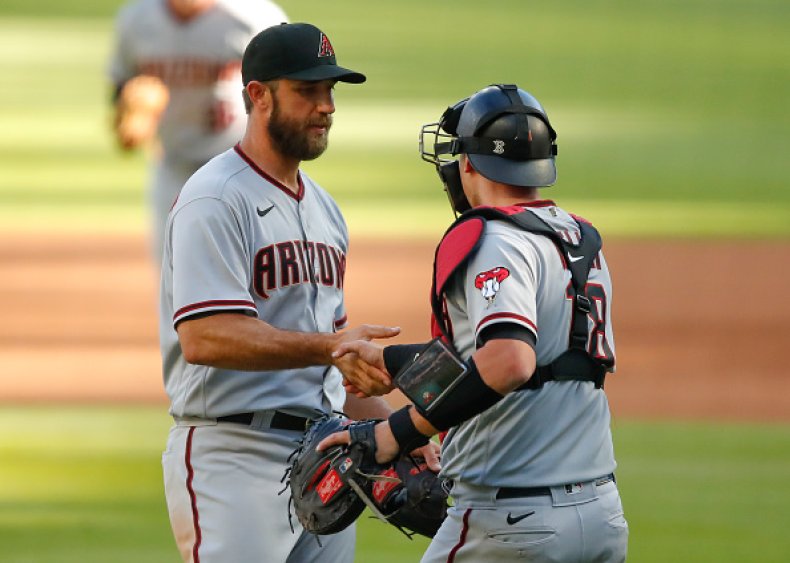 Marcell Ozuna of the Braves lined out to end the game, and Bumgarner went to shake hands with his catcher, Carson Kelly, in a relatively low-key celebration until their fellow Diamondbacks teammates swarmed for an impromptu, on-field party.
"I like to keep it pretty low-key," Bumgarner said. "They definitely didn't, which that's fine and I appreciate that, too. It's pretty special for all of us and like I said, I'm just blessed and fortunate to be able to do that and be a part of this."
MLB in 1991 ruled that a pitcher must throw at least nine innings to attain a no-hitter. Last year, the league implemented a new doubleheader rule, which made two, seven-inning games official to skirt COVID-19 issues.
In the first game of the Braves-Diamondbacks doubleheader on Sunday, Arizona pitcher Zac Gallen threw a one-hit gem in a 5-0 win. Collectively, the two Arizona pitchers combined to give up just one hit over two games, which is the fewest ever given up through a doubleheader. The next-best was on April 12, 1992, when the Cleveland Indians swept the Boston Red Sox that day—the Sox got just two hits through those games.
There have already been two no-hitters this season, both in this month. Joe Musgrove of the San Diego Padres blanked the Texas Rangers on April 9, and Carlos Rodon of the White Sox followed with a no-no on April 14 against the Indians.
Regardless of it not getting recorded, Bumgarner planned to celebrate with his Arizona teammates.
"It feels good. I just want to say two things before I go celebrate with the guys," Bumgarner said. "I want to thank these shadows in Atlanta. They helped me out a good bit. That was awesome. And I want to thank [MLB Commissioner] Rob Manfred for making these seven-inning games."