'ARK' Anniversary Event Guide - Get Cake Slices, Chibis & Spawn Codes
ARK: Survival Evolved has a new Anniversary Event running through June 24 to celebrate the five years since its early access release, and you may have some questions about the limited-time content. Want to know where to find Cake Slices and the fastest way to get the new Chibis? You've come to the right place.
How to Get Cake Slices & what you can craft
The ARK Anniversary Event is all about accruing Cake Slices whether that's for the new Surprise Cake item or a chance at getting a brand-new Chibi. To get a Cake Slice, all you've got to do is harvest them from a Party Dodo. As seen below, Party Dodos look just like regular Dodos but they're wearing party hats. They're found anywhere you typically find a Dodo, but we're partial to the coastal areas that tend to be the safest for new players.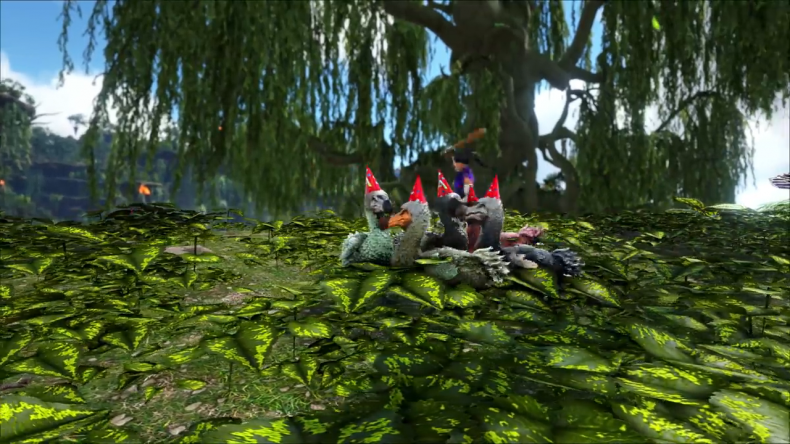 Once you have some Cake Slices, look inside the inventory of a standard Cooking Pot and you'll see the event-related items. Some of these are new, while others return from past celebrations.
ARK Anniversary Surprise Cake: 10 Cake Slices, two Giant Bee Honey, three Metal, 10 Sparkpowder and five Wood
Random Chibi: Five Cake Slices
Dino Party Hat Skin: One Cake Slice
Party Hat Skin: One Cake Slice
Birthday Suit Skin: One Cake Slice
Birthday Suit Pants: One Cake Slice
In other words, everything but the Anniversary Surprise Cake is really easy to craft. The Cake is perhaps the most special, though, as survivors are able to hide in it and then pop out. It's not exactly a game changer, but it might be fun for a few laughs.
How to get the new anniversary Chibis
There are five new Chibis in this Anniversary Event:
Party Rex
Unicorn
Managarmr
Tropeognathus
Dodo
As far as we can see, the main way to get them without cheating is by crafting them with Cake Slices using the above recipe. With that in mind, it could be one heck of a grind to get these tiny collectibles. This event does, however, feature a new mechanic to trade in four old Chibis for one of the new ones.
Anniversary Event Admin Spawn Commands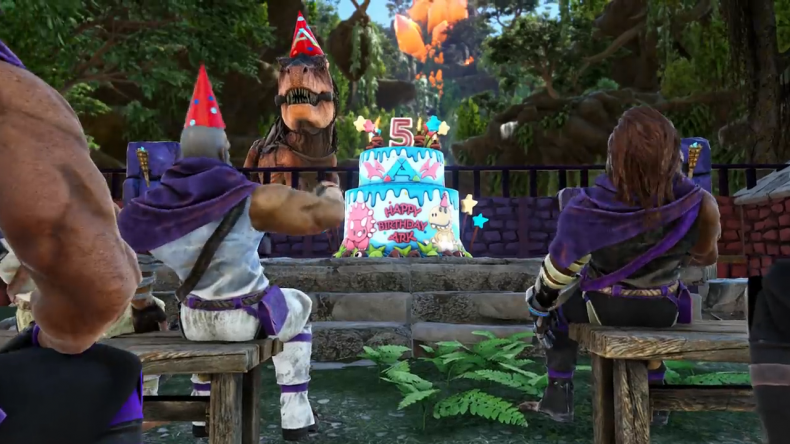 If that sounds like too much work, you can also cheat your way to the new content if need be. Most multiplayer servers won't have cheats enabled, but we'll guide you through the process of turning them on in both offline and online environments.
Press the following buttons to open the admin command menu:
PC: Tab
PS4: L1 + R1 + Square + Triangle
Xbox One: LB + RB + X + Y
If you're just starting out, you must enter the "enablecheats" command first. This works all the time offline and can only be triggered online if the server admin allows it. Once you have cheats enabled, these spawn codes will get you everything you need.
New Content
Surprise Cake: cheat gfi BirthdayCake 1 0 0
Cake Slice: Cheat gfi cake 50 0 0
Party Rex Chibi: Cheat gfi ChibiDino_partyrex 1 0 0
Unicorn Chibi: Cheat gfi ChibiDino_unicorn 1 0 0
Managarmr Chibi: Cheat gfi ChibiDino_managarmr 1 0 0
Tropeognathus Chibi: Cheat gfi ChibiDino_Tropeo 1 0 0
Dodo Chibi: Cheat gfi ChibiDino_Dodo 1 0 0
Returning Skins
Dino Party Hat: cheat giveitem "Blueprint'/Game/PrimalEarth/CoreBlueprints/Items/Armor/Leather/PrimalItemSkin_DinoPartyHat.PrimalItemSkin_DinoPartyHat'" 1 0 0
Party Hat Skin: cheat giveitem "Blueprint'/Game/PrimalEarth/CoreBlueprints/Items/Armor/Skin/PrimalItemSkin_PartyHat.PrimalItemSkin_PartyHat'" 1 0 0
Birthday Suit Skin: cheat giveitem "Blueprint'/Game/PrimalEarth/CoreBlueprints/Items/Armor/Leather/PrimalItemSkin_BirthdayShirt.PrimalItemSkin_BirthdayShirt'" 1 0 0
Birthday Suit Pants: cheat giveitem "Blueprint'/Game/PrimalEarth/CoreBlueprints/Items/Armor/Leather/PrimalItemSkin_BirthdayPants.PrimalItemSkin_BirthdayPants'" 1 0 0
That's all you need to know to make the most of the Anniversary Event in ARK: Survival Evolved.
ARK: Survival Evolved is available now on PC, Xbox One, PS4, Switch, Mac and Linux.
What do you think of the ARK Anniversary Event so far? Which of the new Chibis is your favorite? Tell us in the comments section!