'ARK' Anniversary Event Update & Crystal Isles Release Delayed for Current Events
ARK: Survival Evolved was supposed to launch its Anniversary Event on all platforms and Crystal Isles map on PC later today, but current events have changed those release plans for its developers. According to a new Studio Wildcard blog post, Crystal Isles and the Anniversary Event will now begin June 11.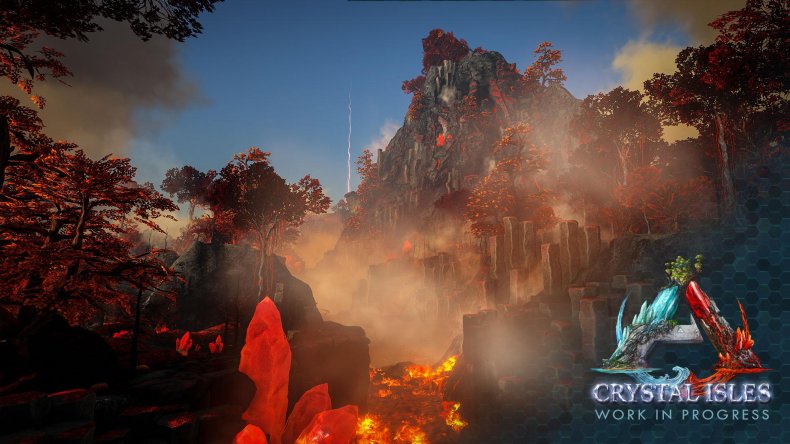 The full statement can be read below.
"Given the situation in the U.S. and the rest of the world right now, we will be rescheduling the ARK in-game celebration until Thursday, June 11. We understand that our community has much anticipated the ARK in-game party and the launch of Crystal Isles, and we're looking forward to sharing all we have prepared for you next week. We felt it would be inappropriate to celebrate milestones during the present time as there are bigger things afoot, and that outweighs any plans we otherwise had. We believe now is the time to be respectful and hear the voices of others. "
Towards the end of May, Wildcard announced June 4 would mark the start of a Fifth Anniversary Event on all platforms and the official release of the Crystal Isles mod map on PC. Given this new announcement, those festivities will begin one week later than fans anticipated.
And, given Studio Wildcard's long history with content delays, Lead Community Manager Cedric Burkes was quick to tweet that this particular decision had nothing to do with the state of the event DLC. "I have commonly said when an update isn't ready. Most of you know me. That sincerely isn't the case here," Burkes assured, "I see how you may jump to the conclusion, but I've always been straight up. Many of you can attest." He further added that his followers should "uplift, don't bring people down."
ARK's Anniversary Event is meant to honor the game's five years on Steam and will be headlined by "Party Dodos, interactive cakes, new chibis, surprises and dazzling unicorns frolicking on rainbows." The Crystal Isles mod map, on the other hand, has been a known quantity on PC since 2016 as a mythical place focused on Wyverns. The main difference as of June 11 is that it will be supported by Wildcard's official servers. It should be noted that this latest delay presumably does not impact the release of Crystal Isles on console, which is still set to debut this summer.
As for the mentioned events in Wildcard's blog post, it's clear the developer is referencing the unfortunate fate of George Floyd, who lost his life at the hand of Minnesota police officer Derek Chauvin on May 25. The incident has since sparked thousands of peaceful protests around the globe designed to raise awareness for racial injustice and inequality of all types. With its statement, Wildcard has opted to amplify the message of those protestors.
Today's delay is one more in a flurry of games industry events postponed to support peaceful demonstration. Fortnite Season 3, Call of Duty: Modern Warfare Season 4, Sony's PlayStation 5 reveal event and even news streams for The Division 2 were all cancelled this week with intent to support the cause. With that in mind, Studio Wildcard stands behind its industry colleagues in saving celebrations for a more tranquil time.
ARK: Survival Evolved is available now on PC, Xbox, PS4, Switch, Mac and Linux.
What do you think of the ARK Anniversary Event delay? Should gamers expect more delays as these protests continue? Tell us in the comments section!