'ARK' Eggcellent Adventure 6 Guide: Bunny Eggs, Chibis and Spawn Codes, Explained
ARK: Survival Evolved Eggcellent Adventure 6 began Wednesday evening, which means survivors now have a chance to collect Easter-themed skins, Chibis and creature colors through April 14. In this guide, we explain how to get Bunny Eggs and use them to craft skins and get Chibis. We'll also detail how the Bunny Oviraptor can be used to change your Dino's color. Whether you intend to cheat with spawn codes or play it fair, we've got everything you need.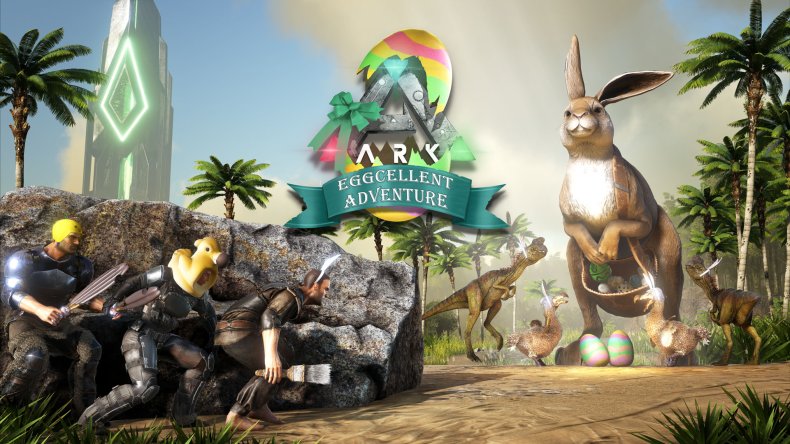 How to get Bunny Eggs in Eggcellent Adventure 6
The process of collecting Bunny Eggs in the latest iteration of Eggcellent Adventure is exactly the same as it was in 2020. Your main target of the event is the Bunny Dodo. These spawn on the coast just like regular Dodos, but they stand out due to their cute bunny ears. Stand behind one long enough, and you'll see a Bunny Egg fall out.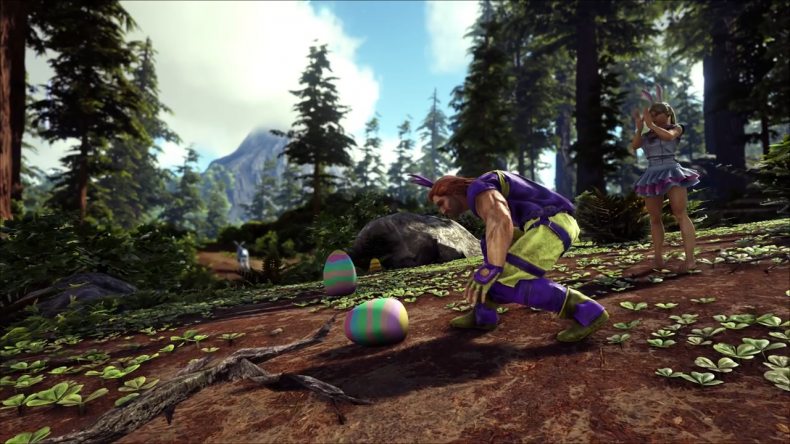 In other words, fans of ARK will be stalking lots of Dodos over the next few weeks. A casual player can easily find enough of them in the wild, but those who truly want to exploit the event to its fullest can also build a Bunny Dodo pen and watch the loot pour in. Compared to other seasonal ARK events, Eggcellent Adventure 6 gives you very easy access to all of the necessary materials.
How to use Bunny Eggs to get Chibis and skins
Once you've got enough Bunny Eggs in your inventory, you might be wondering what to do with them. Their first use involves placing them on the ground just like any other item and cracking them open. With each egg crack, you have a 25 percent chance to unlock a Chibi. Given how many Chibis there are in ARK these days, you'll likely need to break open several hundred eggs to get all the new ones.
If that sounds like too much of a grind, you can also place Bunny Eggs in a standard Cooking Pot to craft any of the event skins. You'll generally need about 50 Bunny Eggs to craft the high-tier items, but we'll offer the full list of recipes below. The last way to leverage Bunny Eggs is to paint them, but, despite their immense artistic value, you won't get any of the benefits they provide by keeping them intact.
How to craft Eggcellent Adventure 6 skins
Even though most of the skins featured in Eggcellent Adventure 6 are reused from past years, there's still a wide variety of cosmetics available to craft while the event is underway. Here's the full list of items and the recipes you'll need to craft them:
Bunny Tail: 50 Eggs
Procoptodon Bunny Costume: 50 Eggs
Bunny Ears skin: 25 Eggs
Dino Bunny Ears skin: 25 Eggs
Easter Chick Hat skin: 40 Eggs
Dino Easter Chick Hat skin: 40 Eggs
Easter Egg Hat skin: 40 Eggs
Dino Easter Egg Hat skin: 50 Eggs
Marshmallow Hat skin: 25 Eggs
Dino Marshmallow Hat skin: 25 Eggs
E4 Remote Eggsplosives skin: 35 Eggs
Easter Egghead skin: 40 Eggs
Chocolate Rabbit Club skin: 35 Eggs
Sweet Spear Carrot skin: 35 Eggs
Tail Wiggle emote: 50 Eggs
Bunny Hop Dance emote: 50 Eggs
How to change Dino colors
Aside from crafting items with eggs, you can also change the color of your Dinos for a limited time by visiting the Bunny Oviraptor. He looks and behaves like a regular Oviraptor, except he's got bunny ears and a special beak. Feed the eggs he drops to your creatures, and they'll get a 24-hour speed boost and a random special coloring. Here's the full list of possible colors you might see in your experiments:
Magenta
Light Green
Light Yellow
Light Orange
Light Red
Dino Light Brown
Dino Dark Brown
Yellow
Cyan
Green
Dino Medium Blue
Turquoise
LightPink
DeepPink
Peach
Mint
Teal
PowderBlue
Cream
Spawn Commands for Eggcellent Adventure 6 items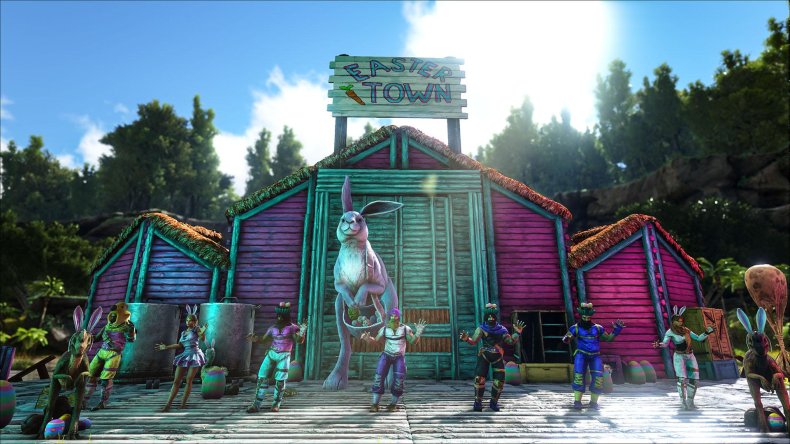 If all that egg grinding sounds like too much work, don't forget that you also have the option to use cheats if you want to see what the festive cosmetics and Chibis are all about. Most multiplayer servers don't support cheats, however, so you'll need to try these out in single player if that's the route you decide to take. Next, open the chat menu by pressing the key combination listed below.
PC: Tab
PlaySation: L1 + R1 + Square + Triangle
Xbox One: LB + RB + X + Y
The first command you must enter is "enablecheats" to turn on the cheat feature. Once that's out of the way, you should be able to leverage this list of spawn commands to get what you need:
Bunny Egg: Cheat gfi e_easteregg 1 0 0
Bunny Egg Candy: Cheat gfi FestiveDinoCandy 1 0 0
Bunny Tail: cheat gfi BunnyTail 1 0 0
Procoptodon Bunny Costume: Cheat gfi ProcopBunny 1 0 0
Bunny Ears: Cheat gfi BunnyHat 1 0 0
Bunny Ears (Dino): Cheat gfi DinoBunnyHat 1 0 0
Easter Chick Hat: Cheat EasterChick 1 0 0
Easter Chick Hat (Dino): Cheat DinoChickenHat 1 0 0
Easter Egg Hat: Cheat EasterEggHat 1 0 0
Easter Egg Hat (Dino): Cheat gfi DinoEasterEggHat 1 0 0
Marshmallow Hat: Cheat MarshmallowHat 1 0 0
Marshmallow Hat (Dino): Cheat Dino MarshmallowHat 1 0 0
E4 Remote Eggsplosives: Cheat gfi EasterBasket_C4 1 0 0
Easter Egghead: Cheat gfi EggNestHat 1 0 0
Chocolate Rabbit Club: Cheat ChocolateRabbit 1 0 0
Sweet Spear Carrot Cheat gfi Spear_Carrot 1 0 0
Tail Wiggle emote: Cheat GFI TailWiggle 1 0 0
Bunny Hop Dance emote: Cheat gfi Emote_BunnyHop 1 0 0
Easter Jerboa Chibi: Cheat GFI Chibidino_BunnyJerboa 1 0 0
Easter Chick Chibi: Cheat GFI ChibiDino_EasterChick 1 0 0
Thorny Dragon Chibi: Cheat GFI Chibidino_Spineylizard 1 0 0
Achatina Chibi: Cheat GFI Chibidino achatina 1 0 0
X-Sabertooth Chibi: Cheat GFI Chibidino_SaberX 1 0 0
That's all you need to know about Eggcellent Adventure 6 in ARK: Survival Evolved.
What are your thoughts on Eggcellent Adventure so far? Did Wildcard deliver on its 2021 Easter event? Tell us in the comments section!