ARK: Survival Evolved was updated on PC and Xbox Thursday evening to kick off the Love Evolved 2 Valentine's Day event, but the presumed version 2.48 patch has yet to publish on PlayStation 4. Despite originally promising the update would deploy in the late evening hours, the content is still not live on Friday.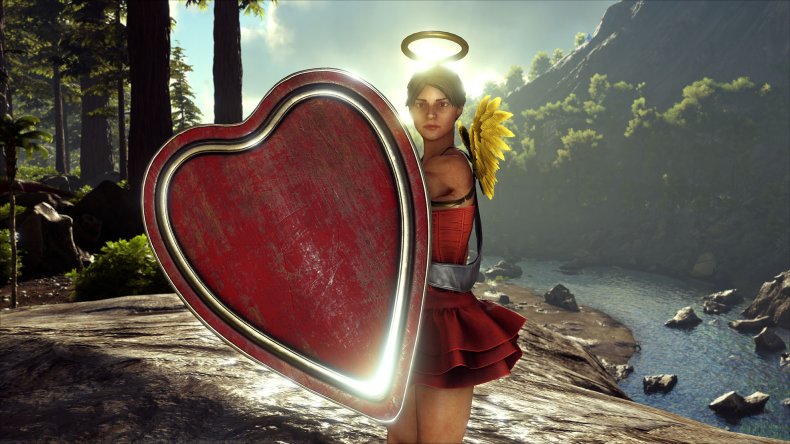 Following several hours of silence on behalf of the game's development team at Studio Wildcard, Lead Community Manager Cedric Burkes has finally tweeted a small update on the situation. "Still playing the waiting game on the PlayStation build," he told his 46,000 followers around 12:30 EST Friday afternoon. "You'll know more when I do. I'm hopeful it will post today."
As those who follow ARK closely will know, the game has become infamous amongst community members for its disorganized update deployment schedule since its launch as a Steam Early Access darling in 2015. PC updates would routinely be delayed by several hours, and the situation only worsened as the game migrated to console platforms two years later. Most recently it was Xbox players who got the short end of the stick when the Fear Evolved 4 update published on Microsoft's platform one day later than the rest. As a result of the delay, the event's duration was slightly extended. There's been no official word on if the same will be true for Love Evolved 2, but it's not unfathomable to assume that might be the case.
Thursday afternoon, Burkes tweeted that the Love Evolved 2 update for PS4 was expected to deploy alongside the Xbox build at 11 p.m. EST. The Xbox version did release around that hour as scheduled, but Burkes ominously said there would be "more news on PlayStation soon." At 12:35 a.m. today, the game's Project Manager added: "We're working on publishing the client. Hopefully soon." The team had previously been quiet up until Burkes' most recent tweet.
While a reason for the unexpected PS4 delay has not been explicitly outlined by ARK's developers, the broadest assumption to make is that the patch may be held up at a specific step in Sony's update certification process. Nearly every single software update that makes its way to the PlayStation Network must undergo a basic vetting process to ensure the content is functional for players to the hardware maker's standards. Especially in a post-Cyberpunk 2077 world, Sony's cert team is likely extra careful about the state of live content. It's not hard to imagine Wildcard may have sent Sony its Love Evolved patch in an extremely hot state, so it might be taking longer than expected to work its way through the pipeline.
We'll offer more news on this PS4 update delay situation as it develops and will post the latest patch notes once the content is available.
ARK: Survival Evolved is available now on PC, Xbox Series X|S, Xbox One, PS4, Switch, Mac and Linux.
What are your thoughts on the delay of the PS4 Love Evolved update? Will it release soon? Tell us in the comments section!