'ARK' Love Evolved 2 Valentine's Day Event Dates and Skins Revealed
ARK: Survival Evolved continues its steady stream of seasonal events next week with the start of Love Evolved 2.
During the week-long celebration, survivors across the globe will benefit from 3x rates across the board while trying to collect a small assortment of skins and Chibis along the way.
The contents of the event were revealed in a Community Crunch blog post published Friday night.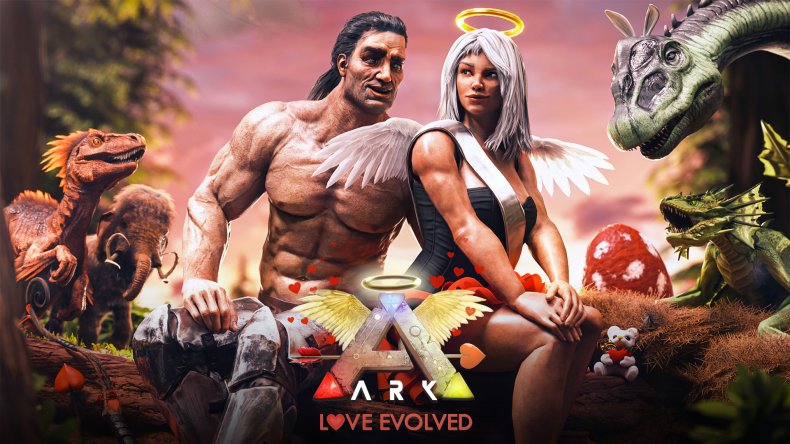 The event runs February 11 through February 18, and it isn't drastically different from the ARK events many players have likely participated in over the years. Just like the Love Evolved event that occurred last year, survivors will be tasked with fishing for a special brand of Coelacanth that have hearts hovering over their heads. Doing so offers Chibis, Valentines Dino Candy and Box o' Chocolates. The last two items on that list can be used to craft a wide variety of skins during the event period, while Dino Candy offers the possibility of special creature colors as long as the event is active.
Here's the full list of benefits, as outlined in the source blog post.
Event Details
This event can be manually activated with the server arg parameter: -ActiveEvent=vday
Dates
February 11 - February 18
Activities
Valentines Coelacanth can be caught for chibis, chocolates and candies
Mating can randomly drop chocolates and candies
Rates
Increased breeding rates to 3x (mating interval, egg hatch speed, and maturation)
Increased taming rates to 3x
Increased player XP rates to 3x
Increased harvesting rates to 3x
Skins
Valentines inspired shield skin *NEW*
Valentines inspired sunglasses skin *NEW*
"Cupid Couture Bottom" (Pants Skin)
"Cupid Couture Top" (Shirt Skin)
"Halo Headband" (Hat Skin)
"Teddy Bear Grenades" (Grenade Skin)
"Bow & Eros" (Bow Skin)
"Love Shackles" (Handcuffs Skin)
Items
Box o' Chocolates
Valentines Dino Candy
Emotes
Chibis
Crystal Wyvern *NEW*
Mesopithecus *NEW*
Otter *NEW*
Enforcer *NEW*
Velonasaur *NEW*
Wild Event Creature Colors
Lavender *NEW*
Cream *NEW*
MediumLavender *NEW*
Peach *NEW*
DeepPink *NEW*
LightPink *NEW*
Dark Red *NEW*
Red
Magenta
Light Red
White
In the grand scheme of possible holiday events in ARK, Love Evolved 2 sounds a little thin. That being said, this event arrives in the midst of what is likely a hectic time for the game's development team at Studio Wildcard. After being delayed in October of last year, the Genesis Part 2 expansion is still expected to release sometime in March. It's also impossible to forget that at least some portion of the studio is also hard at work on ARK 2 as well. These time-sensitive circumstances likely prevented Love Evolved 2 from featuring as many new cosmetics as we personally expected, but there's still more than enough here to keep existing ARK fans occupied. Especially if you like Chibis and bright colors, this list has plenty to love.
ARK: Survival Evolved is available now on PC, Xbox Series X|S, Xbox One, PS4, Switch, Mac and Linux.
What are your thoughts on ARK Love Evolved 2? Will you be playing this event as soon as it starts? Tell us in the comments section!