'ARK' New Year's Eve Mini-Event Announced With Event Skins and Rare Chibis
ARK: Survival Evolved is in the midst of its Winter Wonderland 5 event that runs through January 7, but Studio Wildcard has a surprise up its sleeve for the opening hours of 2021. In an interesting twist, the popular survival sandbox will concurrently host a New Year's Eve mini-event. The news was announced via an official blog post Wednesday morning. As for what fans can expect from the event itself, we'll let the source post do the talking.
"At midnight EST on December 31 and midday EST January 1, our Official Networks will be bombarded with raining gifts in a hail of fireworks to mark the end of 2020," the announcement reads. "These gifts will contain a collection of your favorite skins from past events that are currently unavailable and a Chibi bonanza! And by bonanza, we mean, the drop rate of Rare, Very Rare and Legendary Chibis will be dialled to over 9,000!"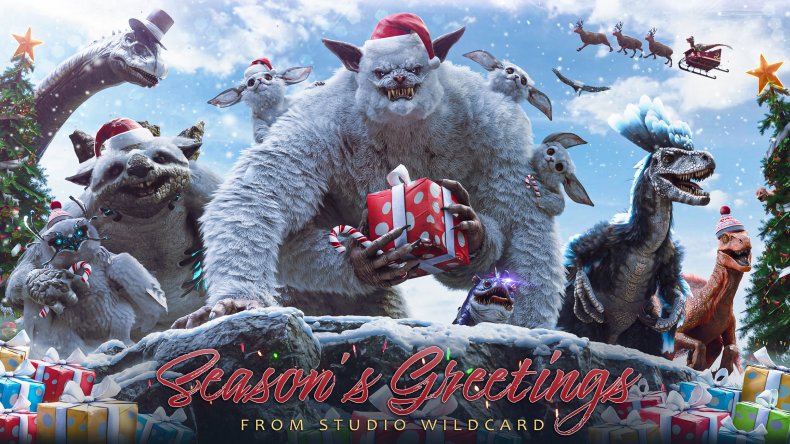 In other words, those who may have missed ARK's regular cadence of seasonal events throughout the year have an additional chance to score cosmetics from those festive occasions. And, knowing how annoying the random Chibi grind can be during any given event, Studio Wildcard has made sure this New Year's Eve mini-event offers ample opportunity to add any number of cute critters to your growing stash.
ARK has doubled down on its holiday-themed and seasonal events over the past year or so, so this limited-time shower essentially acts as a way to celebrate those fun times since passed. While it doesn't involve any new gameplay mechanics, the event sounds like a fun way to wave goodbye to a year that everyone can't wait to put behind them.
For the most part, the upcoming ARK New Year's Eve mini-event is the first time Studio Wildcard has offered any festivities to mark the turning of the calendar. The only exception was the New Year's on ARK event between 2016 and 2017, in which fans could temporarily score a Top hat skin from RaptorClaus drops. The 2020 event features the same drop-focused concept, but it sounds like there will be many more gifts on offer for players to collect. As for how said gifts will fall, we imagine RaptorClaus might once again be the one to spread that loot across your favorite map.
Generally speaking, 2020 has been a strong year for ARK: Survival Evolved. It began with the release of the first half of the Genesis Season Pass, continued with the debut of the Tropeognathus and Crystal Isles mod map in June, and finished off with some minor creature TLC updates in the fall. Looking ahead, all eyes are trained on the second half of the Genesis Season Pass in March and the release of the recently announced ARK 2, led by the creative vision of Fast & Furious actor Vin Diesel. Until those milestones arrive, this New Year's Eve mini-event sounds like an interesting way to keep fans busy.
ARK: Survival Evolved is available now on PC, Xbox One, PS4, Switch, Mac and Linux.
What are your thoughts on this ARK New Year's mini-event? Will you be logging in to get your free gifts? Tell us in the comments section!