'ARK' Summer Bash Bug Update Keeps Crashing on Xbox & PS4 Fix Still Coming
Update: At around 12 a.m. to 2:30 a.m EDT, updates were released to resolve crashes and disappearing Dinos on both PS4 and Xbox One. The patches should be live in North America.
--------
ARK: Survival Evolved kicked off its highly anticipated Summer Bash event on Thursday across all platforms, but the launch was a bit less than flawless on console platforms like PS4 and Xbox One. In fact, matters have worsened as the supposed Xbox fix for issues has since resulted in the emergence of a significant crash. In other words, if you were hoping to farm some meat and craft summery cosmetics this weekend, you may want to make other plans.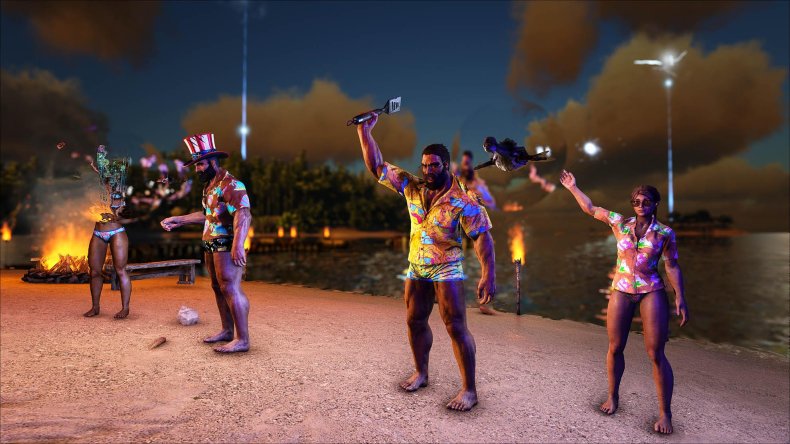 Bugs began surfacing about one hour after the Summer Bash update went live on console around 4 p.m. EDT on Thursday, as large swaths of players reported that some of their Dinos had completely disappeared from the game. Discovery of this shortcoming resulted in a server-side rollback to remove the new data that had seemingly been the source of the problem. Wildcard continued to work on fixes as community management attempted to put out fires, but sentiments grew dire as many fans were unable to connect to lobbies or access their characters.
It wouldn't be till 8 p.m.EDT on Thursday that the ARK faithful would receive a full explanation for their woes. Expressed in a statement on Twitter, Wildcard revealed that "a core piece of game data was corrupted in the latest patch, which resulted in issues including the loss of some Aberration creatures (primarily Aberant variants), incorrect animations, missing item info and more." In addition, it was also revealed the full fix would require a game-based patch to resolve. Given the certification process all console patches must go through, then, the implication was that a working solution would still be some hours away.
The wait persisted until about 11 p.m. EDT on Friday, when it was announced via official accounts that an Xbox patch had been released in an effort to put the matter to bed on at least one impacted platform. But, much to the dismay of players and developers alike, the saga carries on, as players now report constant crashes both in-game and during boot.
"We've identified the crash on consoles and have verified a fix," Wildcard live operation staff announced via Twitter Saturday morning. "Unfortunately due to it being a weekend, the earliest we are able to get the update through platform certification will be Monday morning." In other words, if you're still crashing on Xbox or waiting to play Summer Bash at all on PS4, the delay for a suitable build may carry on for a little while longer.
As for ARK's audience, the community is less than enthused about Wildcard's latest developments. Despite being the studio behind an immensely popular early access darling, the team has also become notorious for delays and botched launches during its five-year tenure. Earlier this year the highly anticipated Genesis Season Pass was pushed two months from its initial release window, and ATLAS, a game made by Wildcard's sister studio, endured one of the rockiest early access launches in recent memory towards the end of 2018.
For those who love ARK,stories like these are par for the course, but we've set up this article in an attempt to provide new updates on the situation as it unfolds. As of right now, however, it sounds like the game will be a bizarre, buggy mess on console for the next few days.
ARK: Survival Evolved is available now on PC, Xbox One, PS4, Switch, Mac and Linux.
Are you frustrated by the recent Summer Bash problems on console? Is your game crashing after the latest update? Tell us in the comments section!