'ARK: Survival Evolved' Large-Tribe PC Conquest Servers Live - How to Play
ARK: Survival Evolved has a new mode called Conquest, and it brings large-tribe PvP to PC servers. Now that everything's live, the game's developers at Studio Wildcard have shared a quick refresher of the major rules.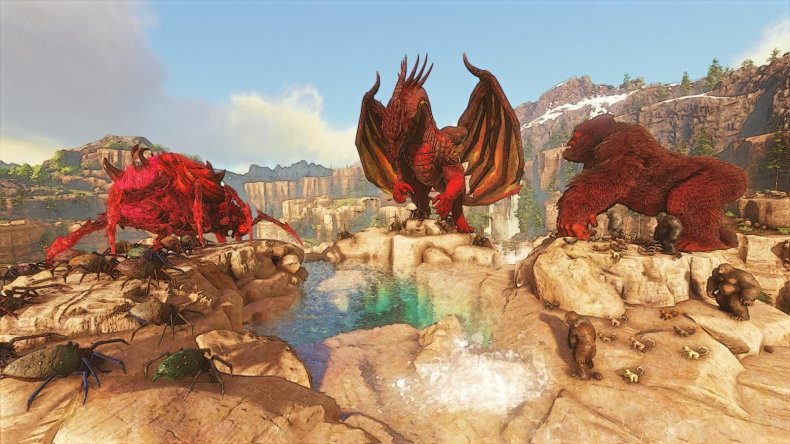 'ARK' Conquest Mode Rules
XP, taming, gathering breeding and raising rates are doubled.
Tribe size is set to 25 players each with a server limit of 100.
Alliances are allowed.
The mode will start with 36 total servers.
Server transfers are allowed.
Conquest does not benefit from Evolution events.
The Conquest server concept is essentially an expanded version of ARK's Small Tribe servers that went live in June. Resource collection rates remain accelerated, but groups are larger without opening up possibilities for totally dominant mega-tribes.
In addition to giving survivors new ways to play, Conquest servers also pilot a few community-focused features. For the first time, servers will be monitored by a live Enforcement crew to ensure there is no cheating or foul play. Shortly after launch, server admins will be able to talk to Enforcement team members via dedicated Discord channels. Tribes with reputable standing might even have the chance to be represented in a Tribe Spotlight program as well. If selected, particularly good tribes may receive direct promotional assistance from the Studio Wildcard team.
In other words, ARK's Conquest servers are yet another example of Studio Wildcard's strengths. New rules expand ARK's strong survival mechanics, and greater interaction with the community keeps players involved.
ARK: Survival Evolved is available on PC, Xbox One, PS4, Mac and Linux. The Conquest servers should be live on PC by 1 p.m. EDT and available on console at a later date.
Will you try ARK's new Conquest servers? Does this new large-tribe PvP mode interest you? Tell us in the comments section!