ARK: Survival Evolved is finally set to release later today on the Nintendo Switch eShop. Since being announced at GDC this March with a proper release date reveal at Twitchcon in October, the popular survival experience has finally arrived on your favorite Nintendo platform.
What time does ARK: Survival Evolved release on Nintendo Switch?
Studio Wildcard has announced that fans can expect ARK to appear on the Nintendo Switch eShop at 3 p.m. EST Nov. 30. Around that time, users will be able to download the game and start creating their first settlements.
Is ARK available for preload on Switch?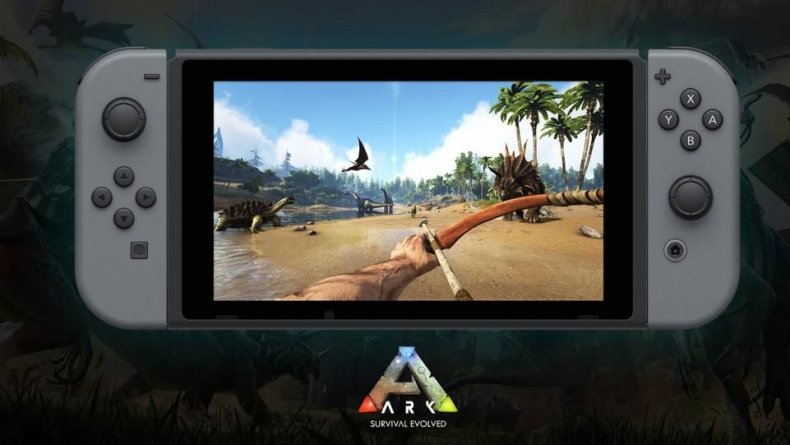 We checked the European and North American eShops and found there was no way to preload ARK: Survival Evolved on Switch. So, if you're interested in playing, you'll have to start your download once the above-listed release time arrives.
It should be noted that a physical version is also available with a suggested retail price of $49.99. We're not sure if the digital version will be any cheaper, but the prices shouldn't vary too wildly. We'd also recommend having plenty of free space on your system given that many third-party games for Nintendo Switch tend to be quite large. Since ARK's eShop pages aren't live yet, exact file sizes aren't available.
What's in ARK for Switch?
Based on past trailers like the one above, it would appear ARK: Survival Evolved for Nintendo Switch is essentially a port of the base game currently available on PC, Xbox One, PS4, Mac and Linux. As such, the experience should be fairly identical. Users will be able to tame Dinos, build settlements and fight the wilderness in single-player and online multiplayer modes.
Footage from ARK's various expansions has not been seen on Switch, so it's assumed that DLC is not included. We'll have much more information on ARK for Switch throughout the week as we learn more.
ARK: Survival Evolved is available now on PC, Xbox One, PS4, Mac and Linux. The Switch version will be live around 3 p.m. EST today.
Will you be playing ARK: Survival Evolved on Nintendo Switch? Which Dino will you be taming first? Tell us in the comments section!