'ARK: Survival Evolved' Switch Release Date & Trailer Revealed at Twitchcon
ARK: Survival Evolved releases on Nintendo Switch Nov. 30. The news was revealed via the game's official Twitter account, in preparation for presentations at Twitchcon. The developers also showcased a new live-action trailer giving players a tease of early-game activities.
The short clip opens with the familiar scene of a survivor landing on the beach, building a thatch structure and punching trees to accumulate wood. Just as the man starts to fashion together basic clothes and a spear, a Pteranodon swoops in to collect its unsuspecting prey.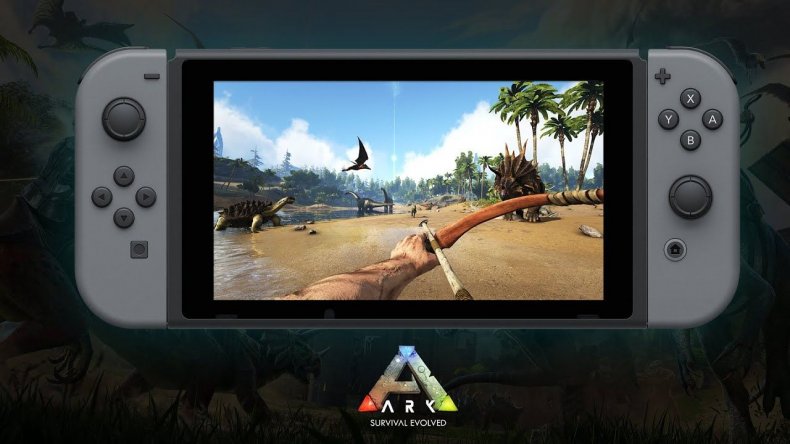 The trailer then cuts to new Switch gameplay footage that looks remarkably similar to the experience currently available on console and PC. Studio Wildcard Co-Creative Director Jesse Rapczak expressed a similar sentiment during an interview with Newsweek this past June. "Switch is just another console platform for us. It's the same experience as Xbox and PlayStation, just on a portable to-go factor," he said.
Here's Wildcard's official statement on the release date reveal:
"ARK: Survival Evolved is launching worldwide for Nintendo Switch on Nov. 30! Get ready to tame dinosaurs, conquer enemies and create enormous structures anywhere - on the couch, in bed, on a bus or even at school. Stranded on a mysterious prehistoric island, you must explore its vast biomes as you begin to hunt, harvest, craft tools, grow crops and build shelters to survive. Use cunning and skill to kill, tame, breed and even ride Dinosaurs and other primitive beasts living on The ARK. Advance your technology from primitive stone tools to T-Rex-mounted laser cannons, as you team up with hundreds of players online or enjoy a solo Jurassic experience."
This announcement makes no mention of future expansion releases for the Switch version, which suggests the upcoming Extinction DLC, due to release Nov. 6, may not make it to Switch at launch. That being said, the vast majority of the base survival experience looks well represented.
ARK: Survival Evolved was first revealed as a Switch title during the Unreal Engine Keynote at GDC in March. Since then, Wildcard has been fairly quiet about the port, but now we finally know when fans can expect to get their hands on it.
ARK: Survival Evolved is available now on PC, Xbox One, PS4, Mac and Linux. It releases on Nintendo Switch Nov. 30.
Will you play ARK: Survival Evolved when it comes to Switch? What do you think of the new live-action trailer? Tell us in the comments section!