ARK: Survival Evolved fans have enjoyed some eventful Community Crunch blog posts over the past few weeks, and the installment released late Friday evening is no different. While we now know the release date of the TLC 3 update, it's arrival has been delayed. To soften the blow, we also have a first look at one of the new futuristic vehicles making its debut alongside Genesis Part 2 in 2021.
Starting first with the TLC 3 news, Wildcard has announced the update will officially release November 7 at 1 p.m. EST. This is at least one week beyond the previously promised October release window, but it is the first time the development studio has outright confirmed an exact date and time for the highly anticipated patch. As has been discussed many times before, the update features substantial changes to the models and abilities of the Woolly Mammoth and Stegosaurus. While neither creature is necessarily being destroyed by the current meta, it's nice to see these mainstays get a visual and gameplay upgrade.
With TLC 3 nearly out the door, however, now the ARK faithful can start looking a bit further into the future. It's been a while since we've heard anything about the Genesis Part 2 expansion still pegged for release in March of next year, but this latest tease is truly something special. We're not quite sure how to describe it, so we'll just let the image do the talking.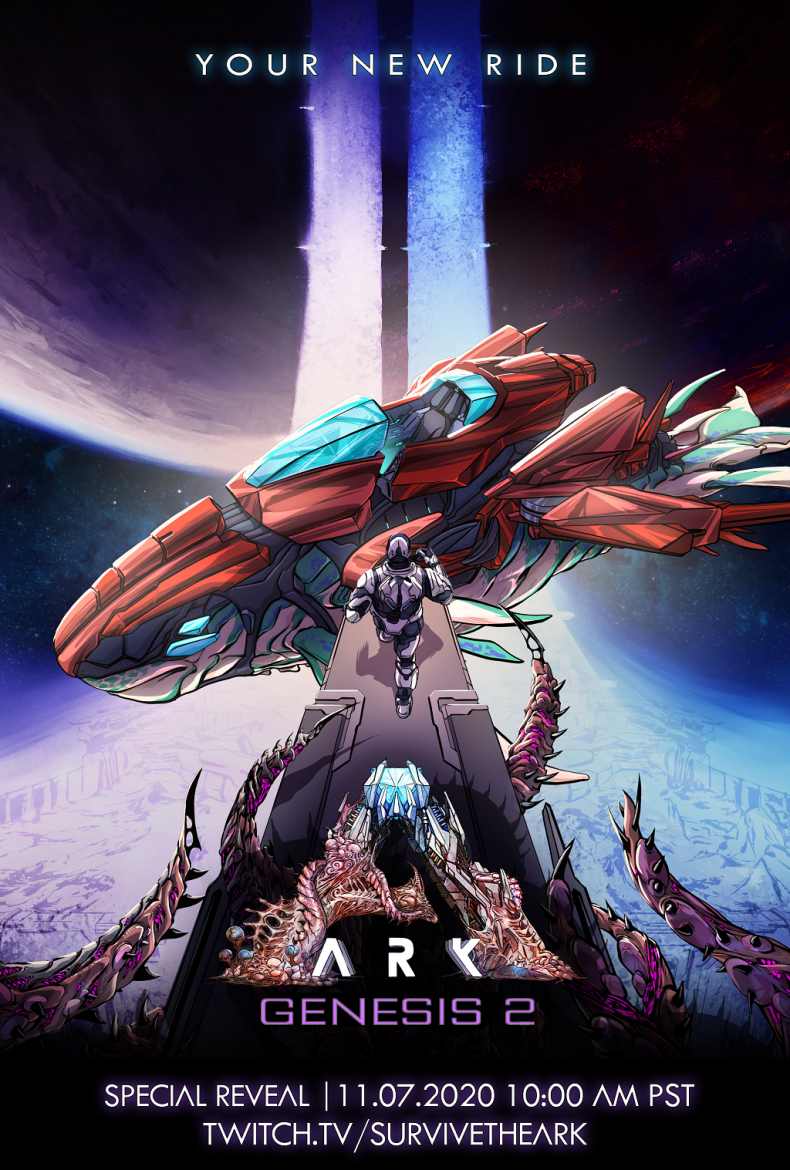 Wildcard suggests the strange creature has "twin ceramic rotor drives on each wheel, computer-controlled, anti-lock brakes [and] 200 horses at 12,000 RPM" but admits that something looks a bit "fishy" about its design. A least as far as the key art is concerned, fans were quick to notice the homage to Akira Bike from the iconic Akira anime and manga series that debuted in the '90s. Fans can expect to learn more about the vehicle during ARK's Extra Life stream, which is also set to take place November 7 at 1 p.m. EST.
For those looking for something more immediate, it's also worth remembering that ARK is just days away from the start of its Fear Evolved 4 event. The celebration runs October 22 through November 6 with 2X rates for breeding, XP, harvesting and taming. Players can also collect cool cosmetics through crafting and encounters with limited-time spooky bosses. In other words, survivors have plenty of ways to keep busy over the next few weeks.
ARK: Survival Evolved is available now on PC, Xbox One, PS4, Switch, Mac and Linux.
What are your thoughts on the new release date for TLC 3? Does this vehicle make you excited for Genesis Part 2? Tell us in the comments section!