'ARK' Update 1.96 Adds Valguero & Deinonychus on PS4 & Xbox - Patch Notes
ARK: Survival Evolved update 1.96 has just released on console, bringing the highly anticipated Valguero map to PS4 and Xbox One. Players not only get a new space to explore, but they'll also be able to interact with the brand-new Deinonychus Dino.
ARK Update 1.96 Patch Notes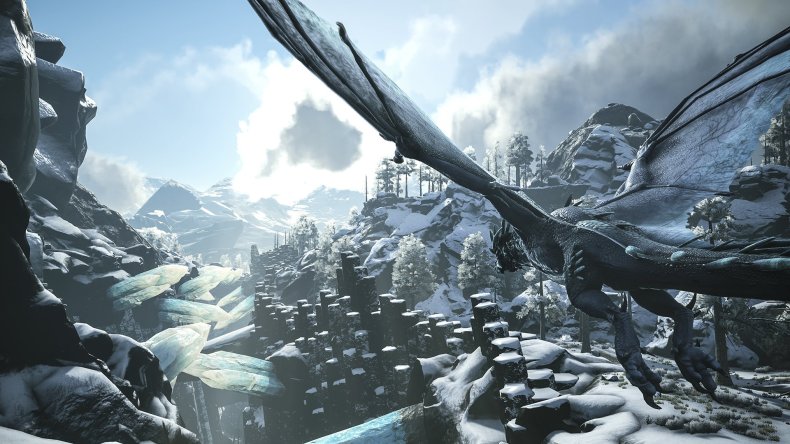 Valguero and Deinonychus on console
Fixed an exploit with Gasbags
Plant Z's weight is now 21
Fixed an exploit with feeding Plant Y seeds.
Cryopod and Cryofridge engrams are now available on all maps (edited).
Item duplication fixes on Xbox
We'll post tailored console patch notes if they become available.
The main inclusion with ARK update 1.96 is the massive Valguero map. The space is about 24 square miles in scope with four unique biomes for tundra, cliffs, savannah and Aberration. In fact, Valguero is the very first instance of Aberration creatures finding their way to another land. While the Aberration realm itself is a bit small, Valguero offers an interesting opportunity for creature mixing that doesn't exist in other maps.
Speaking of creatures, the Deinonychus is an interesting addition to the roster. Unique to its species, the Dino is able to physically latch onto other creatures while performing versatile climbing stunts. You'll find the Deinonychus in the cliffs area, but don't expect to tame one. These beasts can only be added to your party via breeding.
ARK's Valguero update arrives during a curious couple of days for the game's console community. Following an Xbox update earlier this week, nefarious survivors found ways to dupe items, causing chaos for other players. While some fans have cried for a full server wipe to clear out the mess, today's update is the first step in assessing the damage of that larger issue. At the very least, some of the outrage will be mitigated by the distraction of a new map.
ARK: Survival Evolved is available now on PC, Xbox One, PS4, Switch, Mac and Linux.
What are your thoughts on Valguero so far? Does the new map run well on PS4 and Xbox? Tell us in the comments section!