ARK: Survival Evolved update 1.72 has gone live on PS4, Xbox One and PC with varying version numbers. Despite the differences in name, the patch notes are nearly identical across all platforms. The Extinction Chronicles event continues with more Explorer Notes and Tek creature spawns. This time, it's the Tek Stego getting its moment in the spotlight.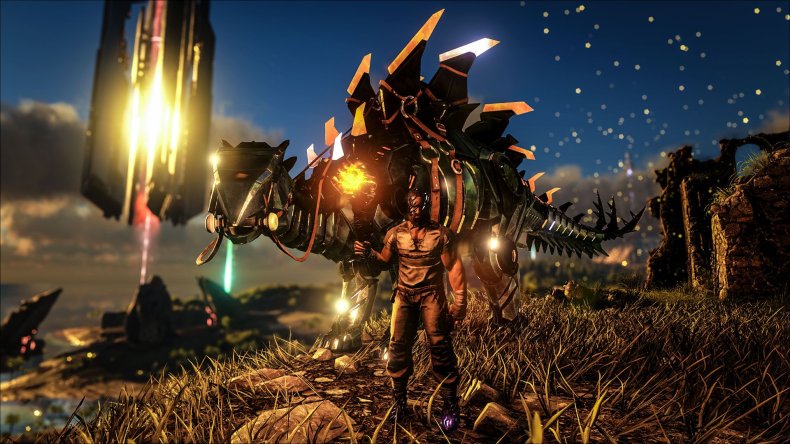 'ARK' 1.72 Patch Notes
Extinction Chronicles
Increased Player and Dino Level Cap by one
Added three new Explorer Notes
Added Corrupted Boots unlockable
Fixed Corrupted Helmet colorization
Tek Stego
New breeding line
Five percent chance to spawn
20 percent higher base level
Colors

Be on the lookout for Purple, Blue, Black and Gray Dinos for the next week.
Scorched Earth
Electric Storm only affects Tek weapons, Tek turrets, Tek saddles and Tek shield generators
Electric Storm duration bumped to eight minutes
General
Addressed map exploit
Riot shield can now be crafted from the fabricator.
Crop plots now correctly grow when out range.
Admin Commands
RainDinos
RainDanger
RefillStats
GiveArmorSet
GiveWeaponSet
GiveItemSet
ClearMyBuffs
PS4 and Xbox-Specific Changes
Arthropleura rebalance

Bite can now damage stone, metal and Tek structures
Takes five times explosive, three times ranged damage

Scorched Earth

Consumable lifetime increased to 90 percent of default from 30 percent
Added Titano spawns

Prim+

Armor weight increased
Argent can now grab correctly
ARK 's Extinction Chronicles event began last month alongside the reveal of the Extinction expansion. The limited-time event adds Explorer Notes and Dino variants leading into the DLC's release date on Nov. 6. The first installment of notes gave players a taste of the futuristic lore they'll be digging into, and now a few more clues have been added to the map. As usual, it's up to players to find them. If that's not enough incentive, the increased possibility of taming a Tek Stego should do the trick as well.
ARK update 1.72 is one of many intended to offer small bug fixes to console and PC platforms as Extinction's arrival draws near. In an exclusive interview with Newsweek, representatives from Studio Wildcard recently hinted at how the upcoming content drop offers a fitting conclusion to ARK's three-act story.
ARK: Survival Evolved is available now on PC, Xbox One and PS4. The 1.72 update is deploying across all platforms.
How do you feel about the latest ARK update given these patch notes? Are you excited to learn the secrets behind this chapter of Extinction Chronicles? Tell us in the comments section!