ARK: Survival Evolved is currently being updated across PC, Xbox One and PS4 in that order. Update 1.74, as it's listed on PS4, adds the third chunk of Extinction Chronicles content and includes the Tek Raptor as a permanent fixture on your favorite maps. Here are all the official patch notes you should know: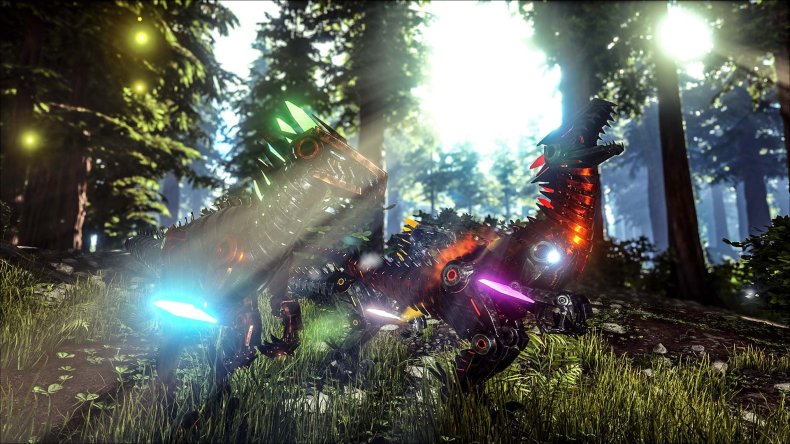 'ARK: Survival Evolved' Update 1.74 Patch Notes - Aug. 14
Extinction Chronicles III:

Added Tek Raptor (five percent spawn chance)
Added new color set (red, black, white, gray)
Added three new Explorer Notes and matching unlock (Corrupted Pants)
Increased maximum player level by one

Connectivity:

Added time out to clients who aren't responding (PC only)

Aberration Balance:

Increased Plant-Z range by 300 percent
Enabled Tek Teleporter on Aberration

Scorched Balance:

Crop plots can now be grown where you'd expect (no more sunlight issues)
Electrical storm disables only Tek weapons/armor (PS4 & Xbox only)
The Extinction Chronicles event revolves around the addition of new Dinos and extra Explorer Notes that unlock themed skins when collected. Just like the Tek Rex and Tek Steggo before it, the Tek Raptor will be a permanent addition to most maps as a high-level tame for skilled players. Collecting all three Explorer Notes will unlock the Corrupted Pants. Separate ARK updates in June and July featured the Corrupted Helmet and Corrupted Boots respectively.
These free content drops arrive in service of ARK 's Extinction DLC that's set to arrive on all platforms Nov. 6. As has been the case with all previous ARK expansions, this one offers a new ARK to explore, more Dinos to tame and mysterious lore to uncover. Described as the three-act conclusion to the current ARK story, the DLC aims to blend the game's prehistoric elements and futuristic tech in shocking new ways.
ARK: Survival Evolved is available now on PC, Xbox One, PS4, OS X and Linux. Update 1.74 is free on all platforms.
What are your thoughts on the latest Extinction Chronicles content? Have you already tamed a Tek Raptor? Tell us in the comments section!